LG Dual Inverter Split Type Aircon 1.5HP HSN12ISS
Limited Stocks Available
INSTALLATION NOT INCLUDED
Key Specs:
Cooling Capacity: 12,660 Kj/h

Energy Efficiency Ratio: 12.29 Kj/hW

Refrigerant Type: R32

Condenser Type: Gold Fin
Compare
Description
With electricity prices reaching ever-greater heights each year, the budget-conscious consumer needs to weigh their options well when choosing a new air conditioner. An inverter unit is by far the wisest choice for those who want to take advantage of the cost savings of a more energy-efficient model. The 1.5-horsepower LG HSN12ISS Dual Inverter Split-Type Aircon is a great investment.
Dual Inverter Compressor With 10 Year Warranty
LG's Dual Inverter Compressor solves improper, ineffective and noisy problems, resulting in an air conditioner that cools faster, lasts longer, and runs quieter. With the 10 year warranty on the compressor, users can enjoy the benefits of LG air conditioner for a longer period of time.

Energy Saving
Inverter Compressor constantly adjusts a compressor's speed to maintain desired temperature levels. Moreover, Dual Inverter Compressor with power saving operation range frequency saves more energy than conventional compressor.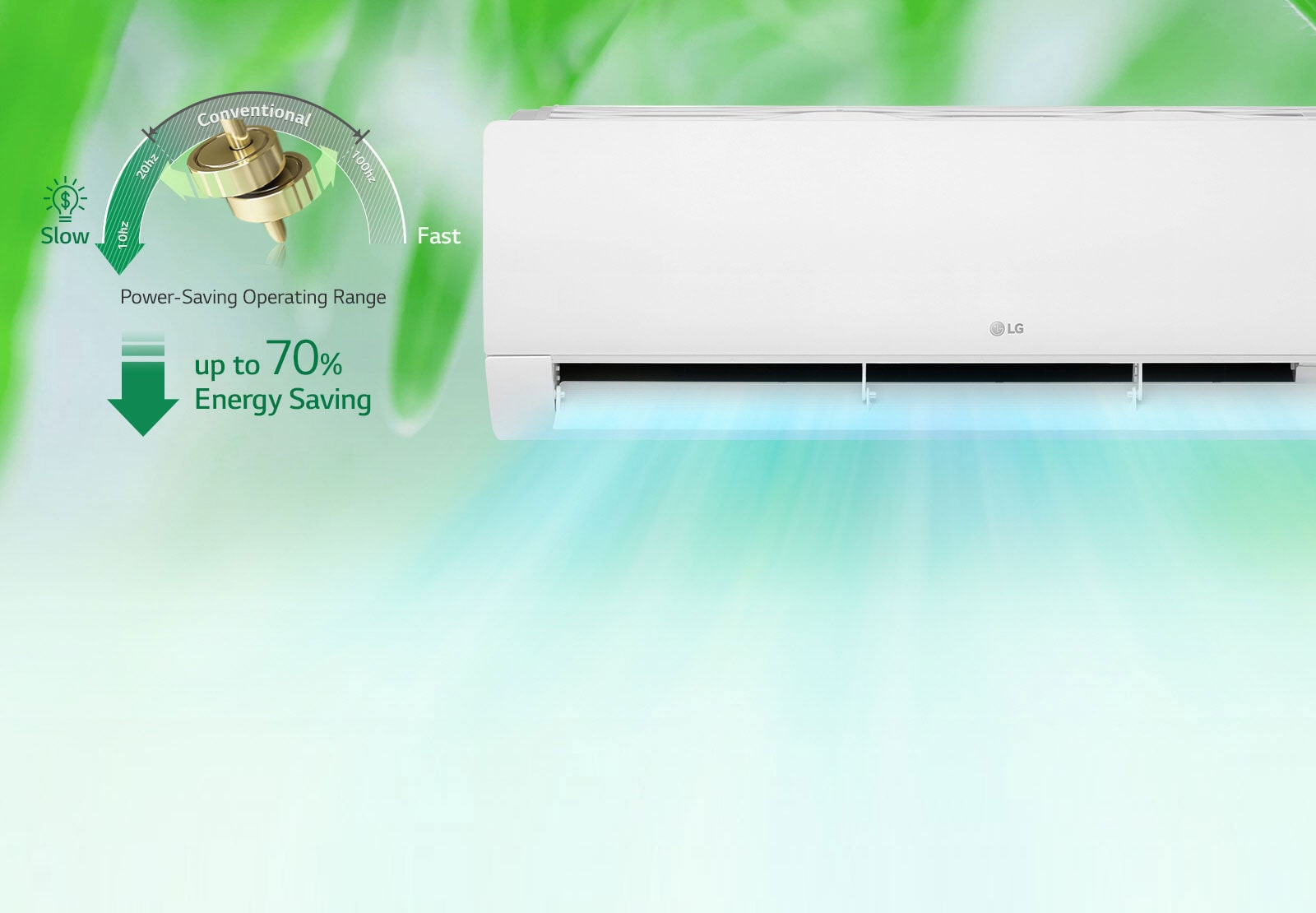 Fast Cooling
LG air conditioner begins cooling the air fast using its high speed cooling range with Dual Inverter Compressor, so it expels air farther and cool spaces faster.

Simple and Slim Design with Hidden Display
LG air conditioner's slim and modern design makes easy installation and convenient cleaning with EZ sliding filter. Moreover large hidden display is perfect for checking your energy display conveniently.

Low Noise
LG air conditioners operate at low sound levels, thanks to LG's unique skew fan and Dual Inverter Compressor™ which eliminate unnecessary noise and allow for smooth operation.

Quick and Easy Installation
LG air conditioners are designed for easier and more efficient installation, regardless of the surroundings and the number of persons involved in the installation process. By reducing the manpower and time required for installation, it is now possible to install more air conditioners at more homes in a shorter period of time.

It can feel almost impossible to live without an air conditioner here in the Philippines, what with how hot our days and nights tend to be. However, rising electricity prices make regularly using a conventional, non-inverter air conditioner prohibitively expensive. The LG HSN12ISS Dual Inverter Split-Type Aircon 1.5HP is a phenomenal choice for cost-conscious customers looking for effective indoor cooling that won't break the bank. This 1.5-horsepower air conditioner is equipped with the South Korean company's proprietary Dual Inverter Compressor for 40% faster cooling without having to use too much power.
Recommended for rooms sized between 23 to 27 square meters, the LG HSN12ISS Dual Inverter Split-Type Aircon is smart enough to do all the work for you. The compressor speed adjusts automatically to maintain the desired temperature levels without any additional interference. This means that the unit is only ever giving you the amount of cooling you need at any given time, resulting in up to 70% power savings. The 4D cooling feature makes use of the air conditioner's horizontal and vertical swing fans to circulate cool air throughout the room and ensure even temperatures throughout. The LG HSN12ISS Dual Inverter Split-Type Aircon also comes with a 3M Micro Protection Filter that makes use of a powerful electrostatic charge to trap dust for cleaner air you can breathe.
At Savers Appliances, you can buy the LG HSN12ISS Dual Inverter Split-Type Aircon1.5 HP at a more reasonable price than at another retailer. Beat the Philippine heat today with a reliable inverter aircon—shop at Savers Appliances now!
Additional information
| | |
| --- | --- |
| Weight | 35.2 kg |
| Dimensions | 89.7 × 32.4 × 78.6 cm |
| Aircon Capacity | |
| Aircon Technology | |
| Other Technology | |
Only logged in customers who have purchased this product may leave a review.