Samsung Split Type Aircon S-Inverter 1.5HP AR12TYHYEWKNTC (Free Installation)
Limited Stocks Available
Cooling Capacity: 12660 kJ/hW
Power Consumption: 1250W
Refrigerant (Type): R32
The Samsung AR12TYHYEWKNTC S-Inverter Split Type Aircon 1.5HP is a reliable and energy-efficient air conditioning unit. If you want something more powerful but less power-consuming than your old window-type AC, give this model a try. Find one today from Savers Appliances, a trusted Filipino distributor of home appliances. Get a great deal on this Samsung air conditioning unit now!
Sold Out
Compare
Description
South Korean brand Samsung is known worldwide as an innovator, and its line of basic S-inverter split type air conditioners is no exception. These air conditioning units run on inverter technology, which allows them to regulate the speed of their motor compressors and efficiently adjust their temperature. This is something that they can do without consuming too much power, which makes them a viable alternative to conventional window-type aircons.
One model that you can definitely explore from the Basic S-Inverter line is the Samsung AR12TYHYEWKNTC S-Inverter Split Type Aircon 1.5HP. Like the other models in this line, the Samsung AR12TYHYEWKNTC sports an 8-pole digital inverter which the brand says is the first in the world. Samsung's signature digital inverter technology can cool down a room several times faster than a conventional model due to its advanced design. Given the hot and humid climate in the Philippines, the Samsung AR12TYHYEWKNTC's Fast Cool feature will be an extremely useful one.
Another notable quality of the Samsung AR12TYHYEWKNTC is its eco-friendliness. This aircon consumes less energy than a conventional non-inverter-type aircon, and it also uses a more environmentally friendly R32 refrigerant. Lastly, this model can keep your household cleaner, more hygienic, and healthier to live in. It comes with an antibacterial filter that's a breeze to clean, and its Auto Clean feature rids its heat exchanger of unwanted dust and moisture. That's one less source of airborne contaminants that you and your family have to worry about.
Consider getting the Samsung AR12TYHYEWKNTC S-Inverter Split Type Aircon 1.5HP for your own home today. You can buy one at an awesome discount here at Savers Appliances, your go-to destination for home and kitchen appliances. Place your order today and let us take care of shipping to any address in the Philippines. Shop now!
Digital Inverter Boost
Save money every day with highly energy-efficient Digital Inverter Boost technology. It maintains the desired temperature with less fluctuation. It also has neodymium magnets and a Twin Tube Muffler, so it works efficiently, quietly and lasts much longer. And it reduces energy usage by up to 73%.
Fast Cooling
Cool rooms quickly from corner to corner, so you're always comfortable. Digital Inverter Boost technology cools the air 43% faster*. Its advanced design also has a 15% larger fan, 18% wider inlet and a 31% wider blade. So cool air is dispersed farther and wider, reaching up to 15 meters.
Auto Clean
When the air conditioner is turned off the Auto Clean function automatically runs a fan to remove dust and moisture in the heat exchanger. So it stays clean and dry, which prevents the growth of bacteria and mildew.
Easy Filter Plus
Keep your air conditioner working efficiently with less effort. The Easy Filter Plus is located outside, on the top, so it can easily be taken out and cleaned. Its dense mesh keeps the Heat Exchanger clean and an anti-bacterial coating helps protect you against dangerous airborne contaminants.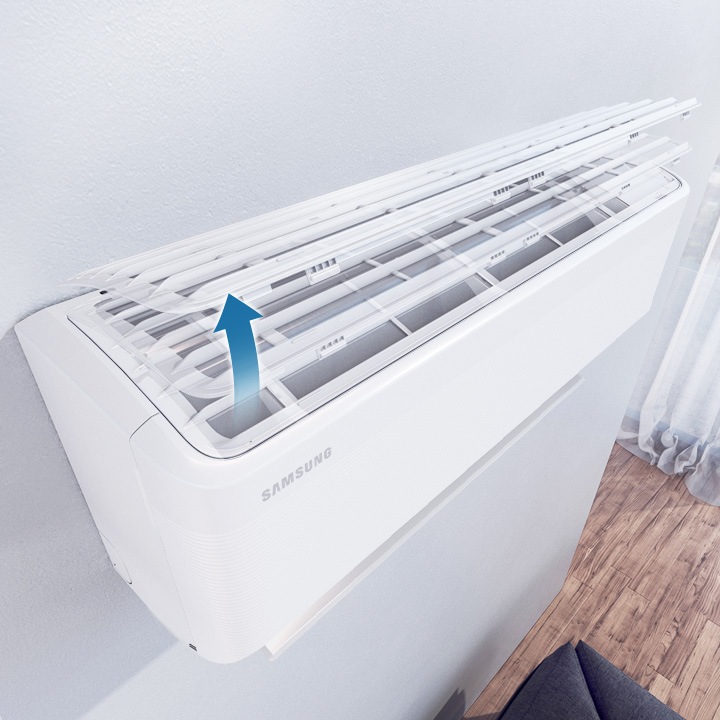 Triple Protector Plus
Enjoy a long-lasting performance in challenging environments. Triple Protector Plus technology prevents damage from power surges and fluctuating electrical currents, without a separate voltage stabilizer. Its anti-corrosion coating also protects the condenser and cabinet in harsh conditions.
ECO Mode
Save energy, but still stay cool. ECO mode uses less compressor capacity compared to Normal mode, which reduces energy consumption*. It lets you cool more efficiently when it's not too hot outside or just save energy and money at any time, so you don't have to worry about the electricity bills.
Good Sleep
Good Sleep mode creates the desirable climate for a good night's sleep. With its temperature control, it keeps you comfortable, so you fall asleep fast, sleep deeply, and wake up refreshed.
Additional information
| | |
| --- | --- |
| Weight | 33.4 kg |
| Dimensions | 88 × 37.5 × 84 cm |
| Aircon Capacity | |
| Aircon Technology | |
| Other Technology | |
| Installation | Free Installation 1st 10 ft |
Only logged in customers who have purchased this product may leave a review.
You may also like…
[wc-ps tag="span"]

Cooling Capacity: 9,400 (3,240 – 10,800) kJ/hr
Power Consumption: 800 (250 – 1,050) Watts
Energy Efficiency Ratio: 11.8 (13.0 – 10.3) kJ/W-h
Thunder Surge Protection and Noise Filter
Fireproof Electrical Box
Double Clean System

Aircon Technology :

Remote

-

Timer

Other Technology :

Inverter

Compare