Samsung Split Type Aircon Wind Free Inverter 2HP AR18TYGCGWKNTC (Free Installation)
PRE-ORDER BASIS
Key Features:
Easy Filter Plus
Wind-Free Cooling
Tri-Care Filter
Material and Design
Available on backorder
Compare
Description
The Samsung Split Type Aircon Wind Free Inverter 2HP AR18TYGCGWKNTC is a powerful and energy-efficient air conditioner whose breeze feels easy on the skin. Its Wind-Free Cooling feature minimizes unnecessary energy consumption and noise while guaranteeing quiet and unobtrusive operation. Get an awesome deal on this appliance only at Savers Appliances.
Stay comfortably cool without feeling cold. Wind-Free Cooling
Stay comfortable cool with Wind-Free Cooling. It gently and quietly disperses air through 23,000 micro air holes, so there is no unpleasant feeling of cold wind on your skin. Its advanced airflow also cools a wider and larger area more evenly. And it uses 77% less energy than Fast Cooling.
Reduces energy use by 77% to save money. Wind-Free Cooling (Energy Saving)
Save money every day with highly energy-efficient Wind-Free Cooling. When operating in Wind-Free mode, the outdoor unit consumes minimal power – using up to 77% less electricity compared to the Fast Cooling mode. So you can stay comfortably cool without worrying about your electricity bills.
Reduces noise and energy use by 73%. Digital Inverter Boost
Save money every day with highly energy-efficient Digital Inverter Boost technology. It maintains the desired temperature with less fluctuation. It also has neodymium magnets and a Twin Tube Muffler, so it works efficiently, quietly and lasts much longer. And it reduces energy usage by up to 73%.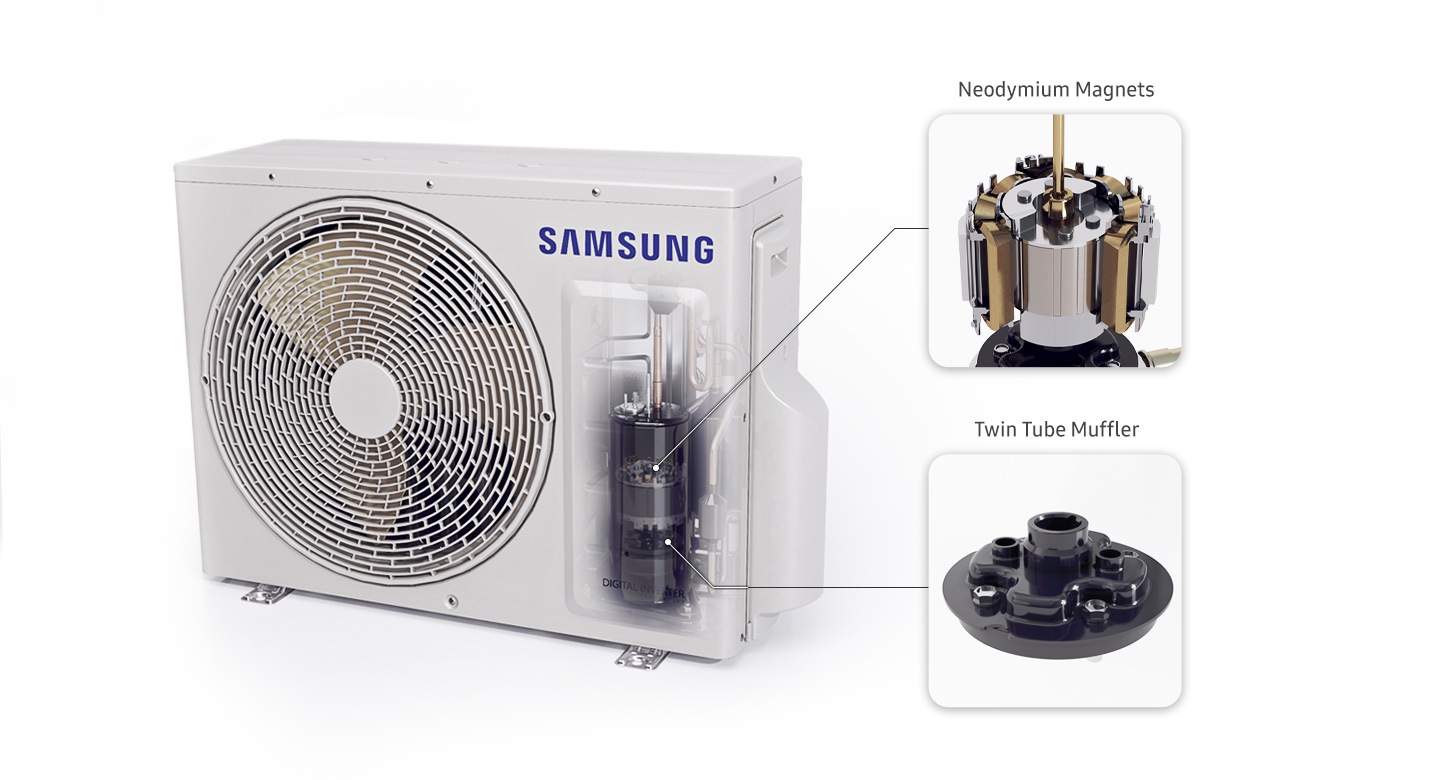 Sleep much better throughout the night. Wind-Free Good Sleep
The Wind-Free Good Sleep mode creates the ideal climate for sleeping – without an unpleasant cold air flow. Its temperature control with Wind-Free Cooling helps you fall asleep fast, sleep deeply and comfortably, and wake up feeling fully refreshed.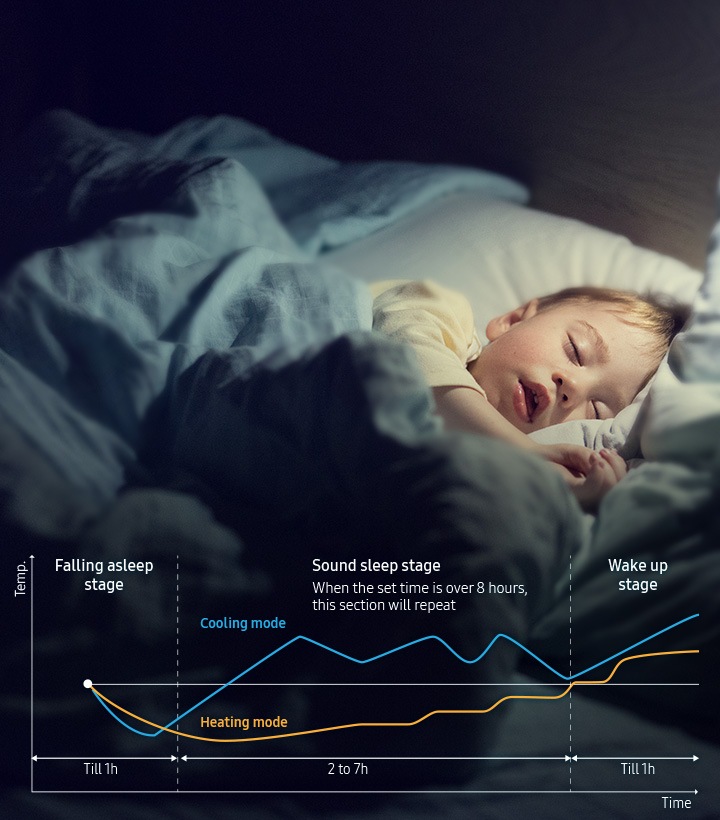 Designed to cool faster, wider & farther. Fast Cooling
Cool rooms quickly from corner to corner, so you're always comfortable. Digital Inverter Boost technology cools the air 43% faster. Its advanced design also has a 15% larger fan, 18% wider inlet and a 31% wider blade. So cool air is dispersed farther and wider, reaching up to 15 meters.
Simply cleans itself – automatically. Auto Clean (3 Steps)
Keep the inside of your air conditioner hygienic by doing nothing! After it has been working, the Auto Clean function automatically dries the Heat Exchanger using a 3-step process. It removes moisture by blowing air for between 10 to 30 minutes. So it prevents the build-up of bacteria and odors.
Enjoy a quieter & more tranquil home. Less Noise
Cool your living spaces with less noise, so it doesn't disturb you. The compressor creates a powerful airflow, but works really quietly as it includes a Twin Tube Muffler. It reduces the refrigerant flow noise when operating at high speed and minimizes ambient noise during low speed operation.
Easy to clean anti-bacterial filter. Easy Filter Plus
Keep your air conditioner working efficiently with less effort. The Easy Filter Plus is located outside, on the top, so it can easily be taken out and cleaned. Its dense mesh keeps the Heat Exchanger clean and an anti-bacterial coating helps protect you against dangerous airborne contaminants.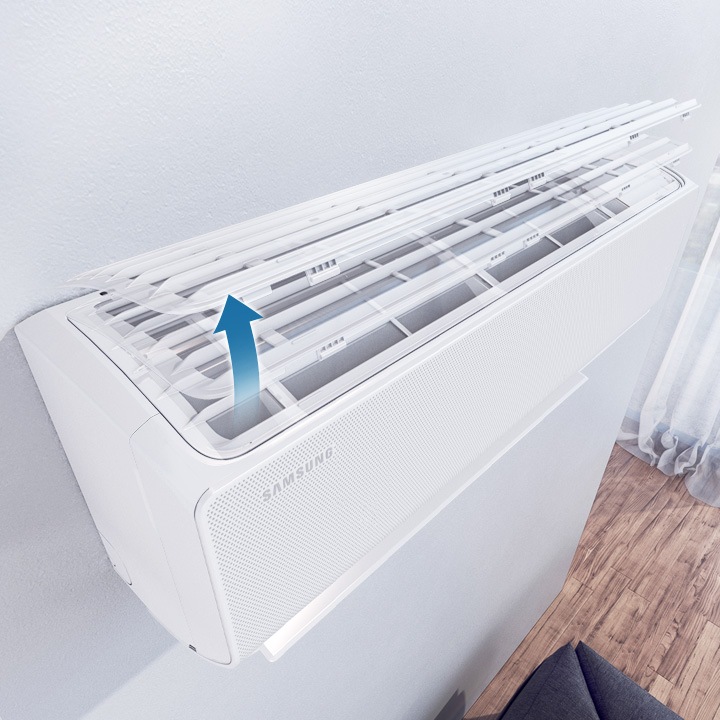 Better Heat Exchanger performance. DuraFin
Enhance the performance and efficiency of the Heat Exchanger using the DuraFin. It is made of a much denser material and is thicker in design. Its improved coating also has more corrosion resistance. So it passes the accelerated Sea Water Acetic Acid Test (SWAAT) for corrosion over 100 days.
Stable and durable in harsh conditions. Triple Protector Plus
Enjoy a long-lasting performance in challenging environments. Triple Protector Plus technology prevents damage from power surges and fluctuating electrical currents, without a separate voltage stabilizer. Its anti-corrosion coating also protects the condenser and cabinet in harsh conditions.
Environmentally friendly refrigerant. R32 Refrigerant
Protect the planet by reducing the impact of climate change. The air conditioner uses the next generation R32 refrigerant, which helps conserve the ozone layer and has a low impact on global warming compared to conventional R22 or R410A refrigerants. So it's much more environmentally friendly.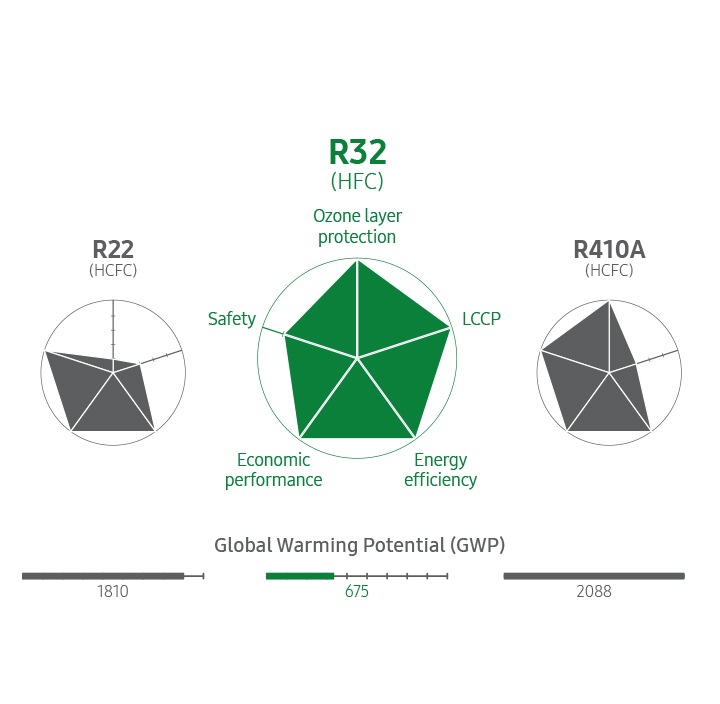 Saves energy & money, cools effectively. ECO Mode
Save energy, but still stay cool. ECO mode uses less compressor capacity compared to Normal mode, which reduces energy consumption. It lets you cool more efficiently when it's not too hot outside or just save energy and money at any time, so you don't have to worry about the electricity bills.
Though it's true that split-type air conditioners are often pricier than window-type air conditioners, they make a great long-term investment for a home's energy efficiency and overall indoor comfort. Split-type aircons are so named because they have separate condensing and air handling units, with the latter installed inside the room and the former installed outside of it. Owners of split-type aircons typically enjoy quieter operation in addition to high cooling performance. Both are qualities that you can expect if you invest in a Samsung Split Type Aircon Wind Free Inverter 2HP AR18TYGCGWKNTC for your home.
The highlight of the Samsung Split Type Aircon Wind Free Inverter 2HP AR18TYGCGWKNTC is its Wind Free Cooling feature. When operating on Wind Free mode, the aircon can reduce its power consumption by up to 77% less than on its Fast Cooling mode. Wind Free mode also guarantees the quietest and gentlest dispersal of cold air, so that you don't experience an uncomfortable cutting sensation when the breeze hits your skin. All the same, using the aircon's Wind Free feature won't compromise on cooling speed or cooling performance. You can still expect this unit to be reliable at cooling down large spaces and to help you beat the Philippines' notorious tropical climate.
Discover Wind Free mode and more when you buy the Samsung Split Type Aircon Wind Free Inverter 2HP AR18TYGCGWKNTC for your home. Get one at an excellent discount from Savers Appliances' online appliances store!
Additional information
| | |
| --- | --- |
| Weight | 45.6 kg |
| Dimensions | 37.5 × 37.5 × 91.2 cm |
| Aircon Capacity | |
| Aircon Technology | |
| Other Technology | |
| Installation | Free Installation 1st 10 ft |
Only logged in customers who have purchased this product may leave a review.