Samsung Bottom Freezer Refrigerator No Frost Inverter 15.0cu ft. RL40A3SBAB1/TC
This item will be released at a future date.
Water Dispenser

Smart Sensor System

Deodorizing Filter

Digital Inverter Compressor
Compare
Description
Designed to help save money — and the environment
Preserve food and the environment at the same time. The new Samsung refrigerator uses 20% less energy than conventional models. Energy-efficient technologies— including our innovative digital inverter compressor and LED lighting — help conserve energy, reduce greenhouse gases and lower your monthly electricity bill. It's perfect for accountants and environmentalists alike.


Intelligent cooling for optimal efficiency
Designed to optimize the refrigerator's cooling performance, the Smart Sensor System uses five sensors to monitor the temperature in your kitchen and the humidity level inside the fridge.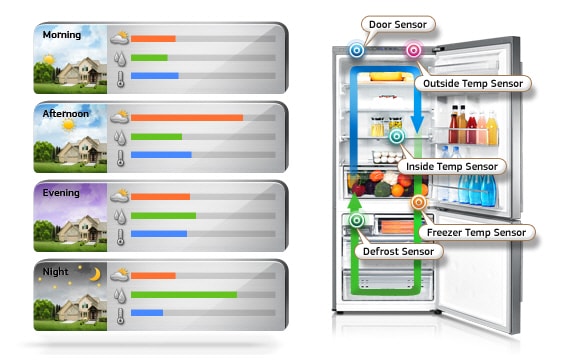 Enjoy energy savings, quiet time and a 10-year warranty
Samsung's Digital Inverter Compressor makes slight adjustments based on humidity levels and usage patterns. This helps maintain a more consistent temperature and reduces wear and tear on the compressor.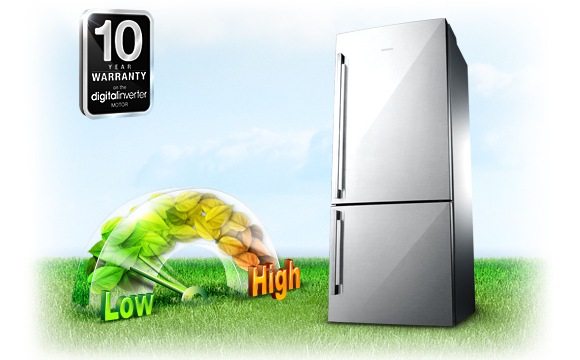 A shelf that opens up more space
The triple foldable shelf gives you the flexibility to smartly store bulky items you never could before. Fold back the shelf completely when you need to refrigerate a multi-tiered cake or a towering croquembouche. Or fold the shelf in half to accommodate tall-but-narrow items such as a carton of orange juice while preserving storage space.



Door guards adapt to your ever-changing tastes
Since your shopping list changes from week to week, the Samsung refrigerator was designed with four individually adjustable door guards that help you easily and conveniently store your grocery items. The guards can be shifted higher or lower to accommodate taller bottles, while a deep guard holds bulky beverage containers and/or two rows of soda cans.



Simply designed to provide more space for food
The only bulky items inside the fridge should be the groceries you buy, not protruding light fixtures or vents. Samsung's Simple Inner Wall Design expands storage capacity with strategically placed Multi Flow vents and space-saving LED lighting, while presenting a sleek and sophisticated interior appearance.



Multi Flow
Multi Flow works on every level—with small vents over each shelf—to maintain an even temperature throughout the refrigerator, especially after you open the door. By cooling every section of every compartment at the same time, it helps your foods stay fresher longer.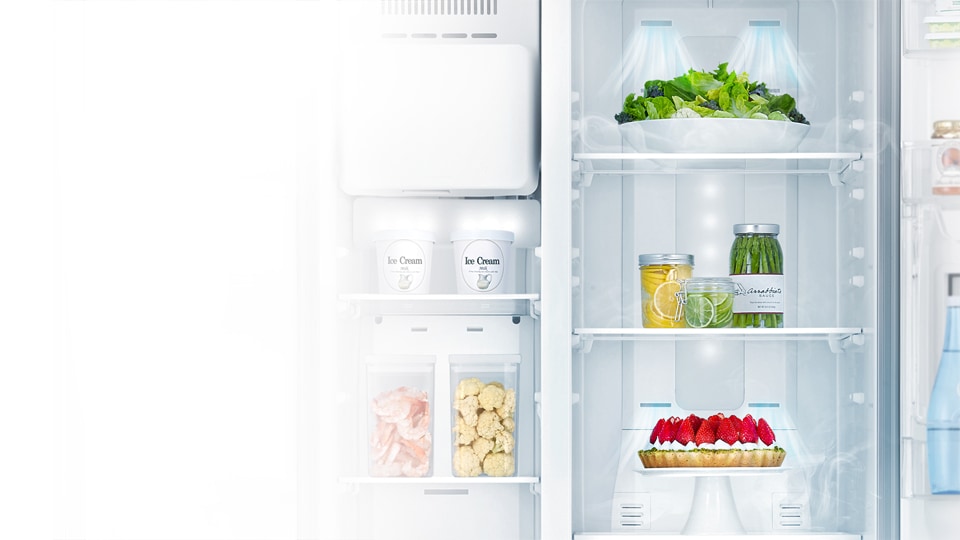 Glossy Deco Shelf
Every element of the new Samsung refrigerator is designed to impress, including the Glossy Deco Shelves. Choose between stainless steel trim or brushed metal finish. Both add a touch of elegance and glamor not found in conventional refrigerators.

Additional information
| | |
| --- | --- |
| Weight | 87 kg |
| Dimensions | 76.8 × 79.9 × 180 cm |
| Refrigerator Capacity | |
| Refrigerator Technology | |
| Other Technology | |
Only logged in customers who have purchased this product may leave a review.