Samsung Microwave Oven 28L MS28F303TFK
Pre-order Basis
Healthy Cooking Function

Power Defrost

Ceramic Enamel Interior

1500W
Dimensions (WxHxD): 517 x 297 x 428 mm
Available on backorder
Compare
Description
It's easy to prepare homemade meals when you have the freshest ingredients and reliable appliances like the Samsung Microwave Oven 28L MS28F303TFK. As one of the top manufacturers of home appliances in the world, Samsung makes sure each one of their products is packed with all the right features, and It's the same with this microwave oven.
Cooking from Fresh Ingredients Made Simple
Replace ready-to-heat convenience foods with healthy homemade meals thanks to the SamsungF300G microwave oven. With 20 pre-set cooking modes, you can prepare fresh food in minutes.
Enhance Your Kitchen Look
Enhance your kitchen with the stylish F300G microwave oven, featuring a black glass front encased in hairline pattern exterior with matching handle and a crystal blue display and detailed silver dial.
Keep It Clean with Ceramic
The F300G microwave oven features a smooth ceramic interior that is easy to clean and won't scratch or discolor over time. The anti-bacterial and scratch-resistant interior is made to last.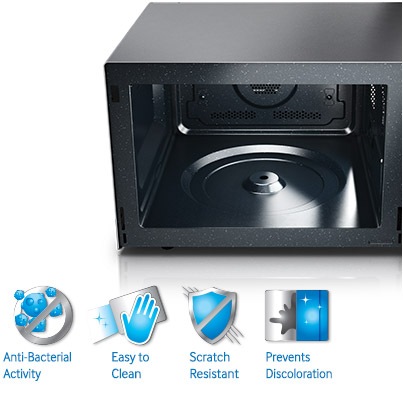 Save Money with ECO Mode
The ECO Mode setting on the new Samsung F300G offers the lowest standby power consumption, significantly reducing power usage to save on energy bills.
Cooked to Perfection
Achieve perfectly cooked dishes every time thanks to the Triple Distribution System – microwaves are delivered via three slots in the oven cavity for broader coverage and more accurate heat distribution.
Taste Favorite Traditional Recipes
Choose from a wide variety of pre-programmed local recipes on the Samsung F300G microwave oven and enjoy familiar flavors with the simple touch of a button.
When you want a simple and convenient way to prepare your food, we recommend the Samsung Microwave Oven 28L MS28F303TFK. It has a lot of features to help you cook various dishes. Thanks to its 20 different pre-set cooking modes, you can easily prepare many recipes for vegetables, poultry, and fish in just a matter of minutes. Even with the easy cooking method, you get tasty results due to Samsung's Triple Distribution System. This technology makes sure each dish is perfectly cooked every time by delivering microwaves through three areas inside the oven for broader and more accurate heat distribution.
Apart from well-cooked meals, your kitchen will also look better when you bring in this Samsung microwave oven. It features a black glass front with a sleek hairline pattern exterior. To complete the modern design, it has a matching silver handle and dials along with a crystal blue display.
You don't need a lot of kitchen equipment to prepare delicious homemade meals, especially when you have this Samsung microwave oven. Aside from this kitchen appliance, we also have plenty of other home appliances for sale from your trusted local and international brands. In terms of payment, we want to make it easy for you as well. You can choose to pay through credit card, bank deposit, or cash on delivery. Place an order today here at Saves Appliances.
Additional information
| | |
| --- | --- |
| Weight | 17 kg |
| Dimensions | 46.6 × 57 × 36.2 cm |
Only logged in customers who have purchased this product may leave a review.