Samsung 43inch The Serif TV QA43LS01TAGXXP
360 All Around Design

Detachable Floor Stand

100% Real Color Volume with Quantum Dot

AI Upscaling: Enjoy Any Video Content in 4K Picture Quality
Sold Out
Compare
Description
Improving your viewing pleasure is easy with the Samsung 43inch The Serif TV QA43LS01TAGXXP. It produces impressive vibrant images that will make you think you are watching a movie in the cinema. And with its impressive design, the TV perfectly fits in any part of your home.
Unconditionally Beautiful
Design for every place, at every moment, from every angle.

World's No. 1 TV Brand 15 Years Running
* Samsung is ranked No.1 TV brand for 15 years.
* Source – Omdia, Jan-2021. Ranking in terms of shipments. Results are not an endorsement of Samsung. Any reliance on these results is at the third-party's own risk.
"Beautifully Designed + World Class Technology… If you have a keen sense of design like myself, then this is the TV for you. Beautiful form meets pragmatic function…"
*The images are for illustrative purposes only and are intended to provide betterunderstanding.
Unlike conventional TVs, it doesn't belong next to the wall.
Detachable Floor Stand
Place The Serif literally anywhere in the room. It comes with an elegant metal stand that perfectly pairs with its stylish frame. It looks good in smaller spaces too, and the option to remove the legs makes it all the more versatile. Move it around as you please.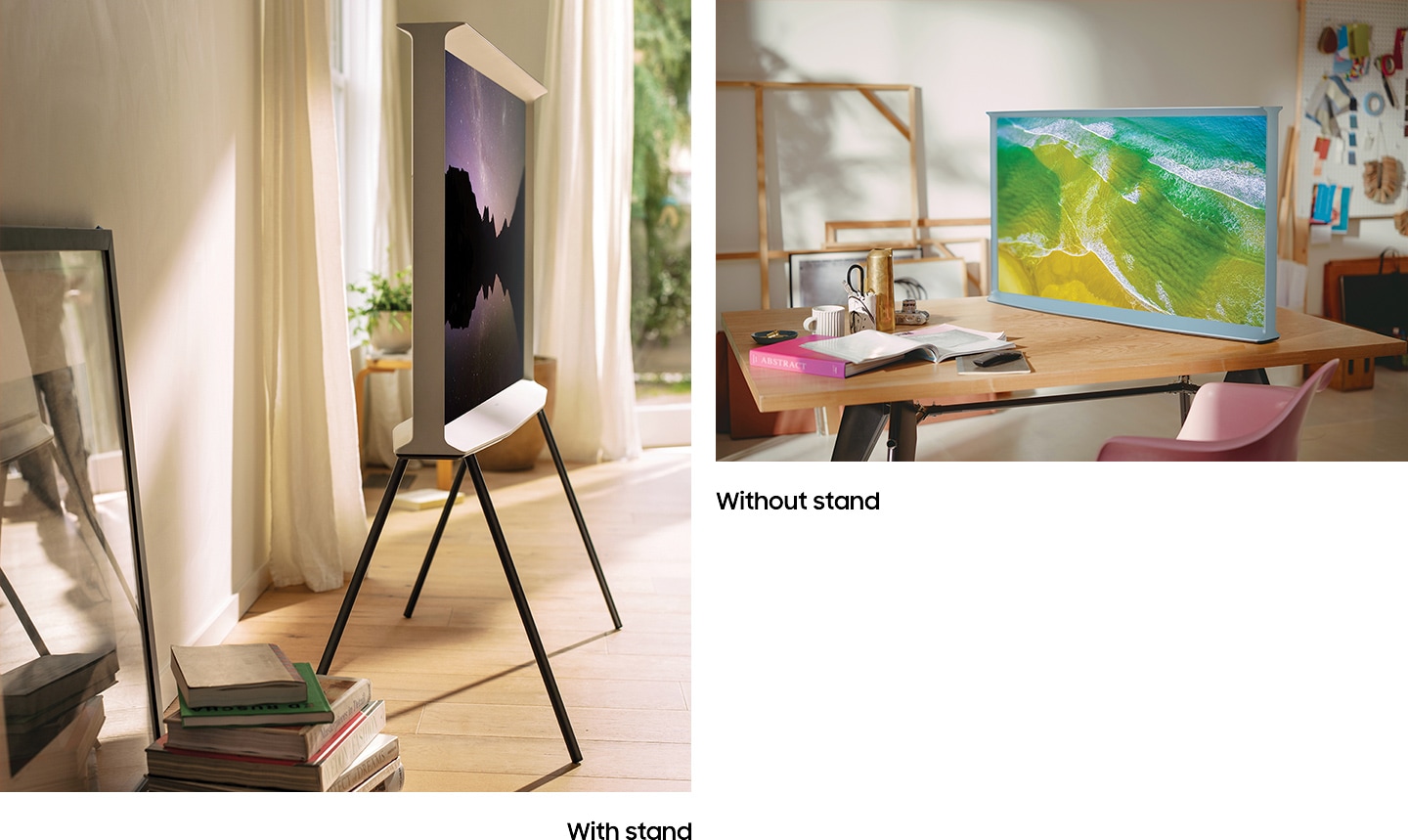 New Ways to Enjoy Content
NFC on TV
When you need some music, just connect and enjoy your view.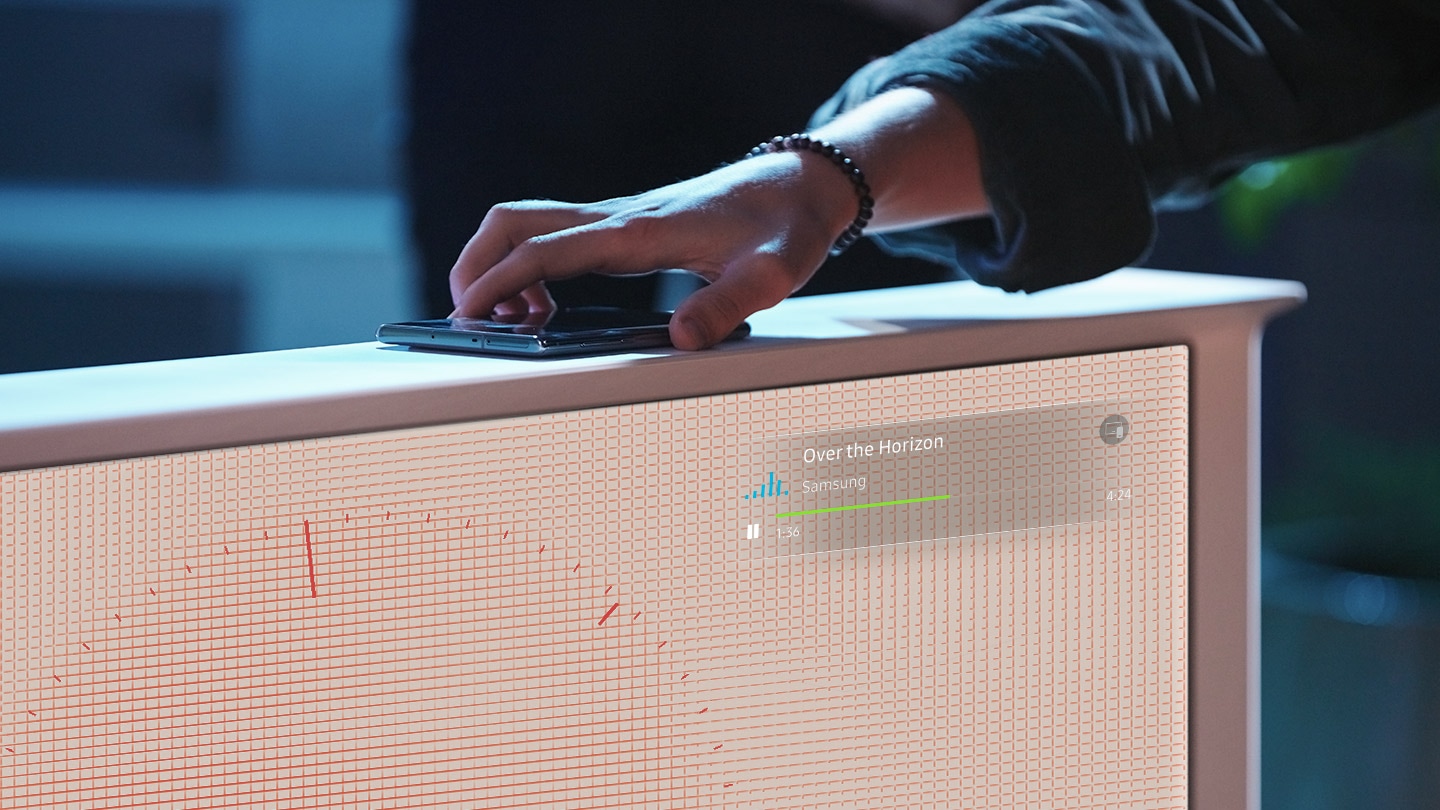 * Compatible devices only.
See the World in QLED Technology
Color Volume 100% & HDR 10+
Samsung's Quantum Dot technology uses nano-sized quantum dots to produce 100% color volume, so even if the scene is too bright or dark, you'll only see realistic visuals. And HDR10+ analyzes each scene frame by frame to adjust the brightness to each specific moment.
* QLED have received verification from world-class testing and certification association, Verband Deutscher Elektrotechniker (VDE), for its ability to produce 100 percent color volume.
* QLED : Samsung QLED is Quantum dot based TV.
* 100% color volume measured to DCI-P3 standard, certified by VDE.
* Compatibility with all HDR content is not guaranteed.
* The range of HDR claims luminance based on internal testing standards and is subject to change according to viewing environment or specific conditions.
Fits perfectly wherever you put it.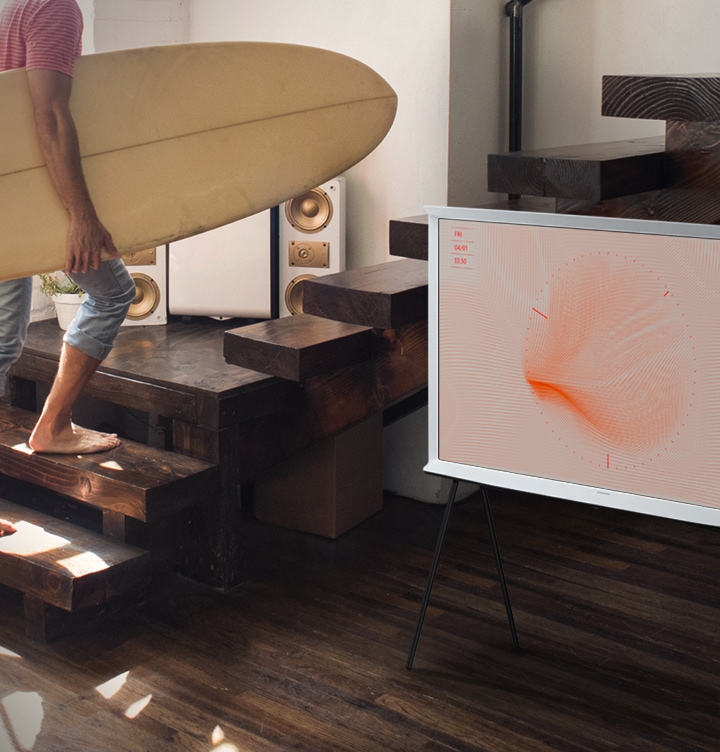 An eye-catcher for sure.
'I' Shaped Design
The capital 'I' presents a bold look that's certain to catch the eyes of any beholder. The iconic "I' shaped design, packaged in a slim frame turns The Serif into a statement piece in a way that no other TV can. Get the 'I' to claim the scene.
No Tools? No Problem
It's all very straightforward. Simply place your TV upside down to pop the leg sockets out, and put the stand in place. Prop it back upright, plug it in, and you're good to go.
Plus, some tips to hide the cables.
Neatly manage all your cords for a clean look. Just pop off the back cover, pull the power cord through the opening, and run the cable along the groove at the bottom. Being tidy never looked so good.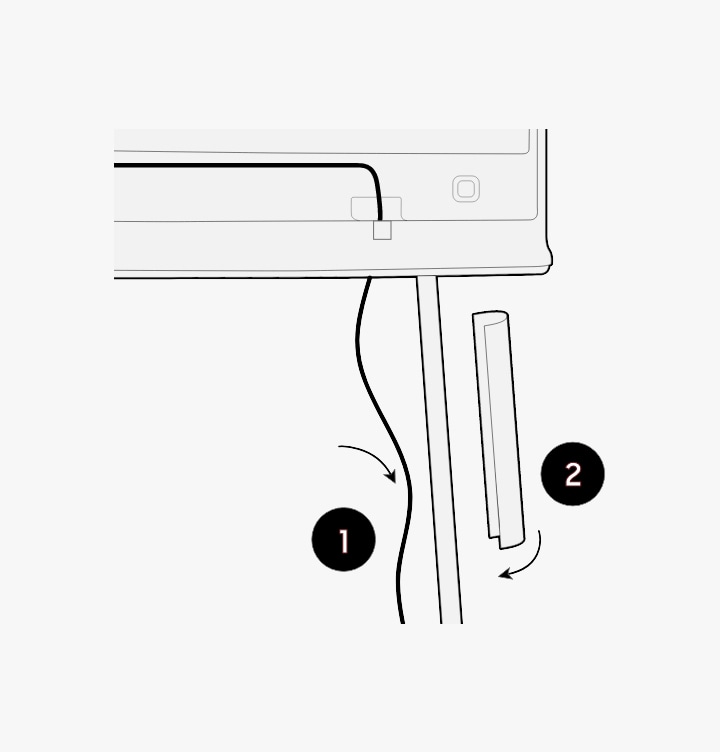 It has a pop of color.
The Serif Cloud White
With the Cloud White popular color, this is really how you complete your home interior.
* The product color may vary by region.
Exclusive Patterns
Your screen doesn't have to be blank when you're not watching. Specially created by Ronan & Erwan Bouroullec, the new Ambient Mode features two exclusive patterns inspired by the natural world around us__a beautiful leaf and a textured fabric—and with various colors options to match your mood.
Enjoy Every Moment with The Serif
Ambient Mode +
Useful information right before you head out the door in the morning, a range of vibes for parties with friends, calm tunes that play while you read a book, or sharing the pictures you took with your loved one__The Serif gives you a range of choices and settings that transform your TV how you like.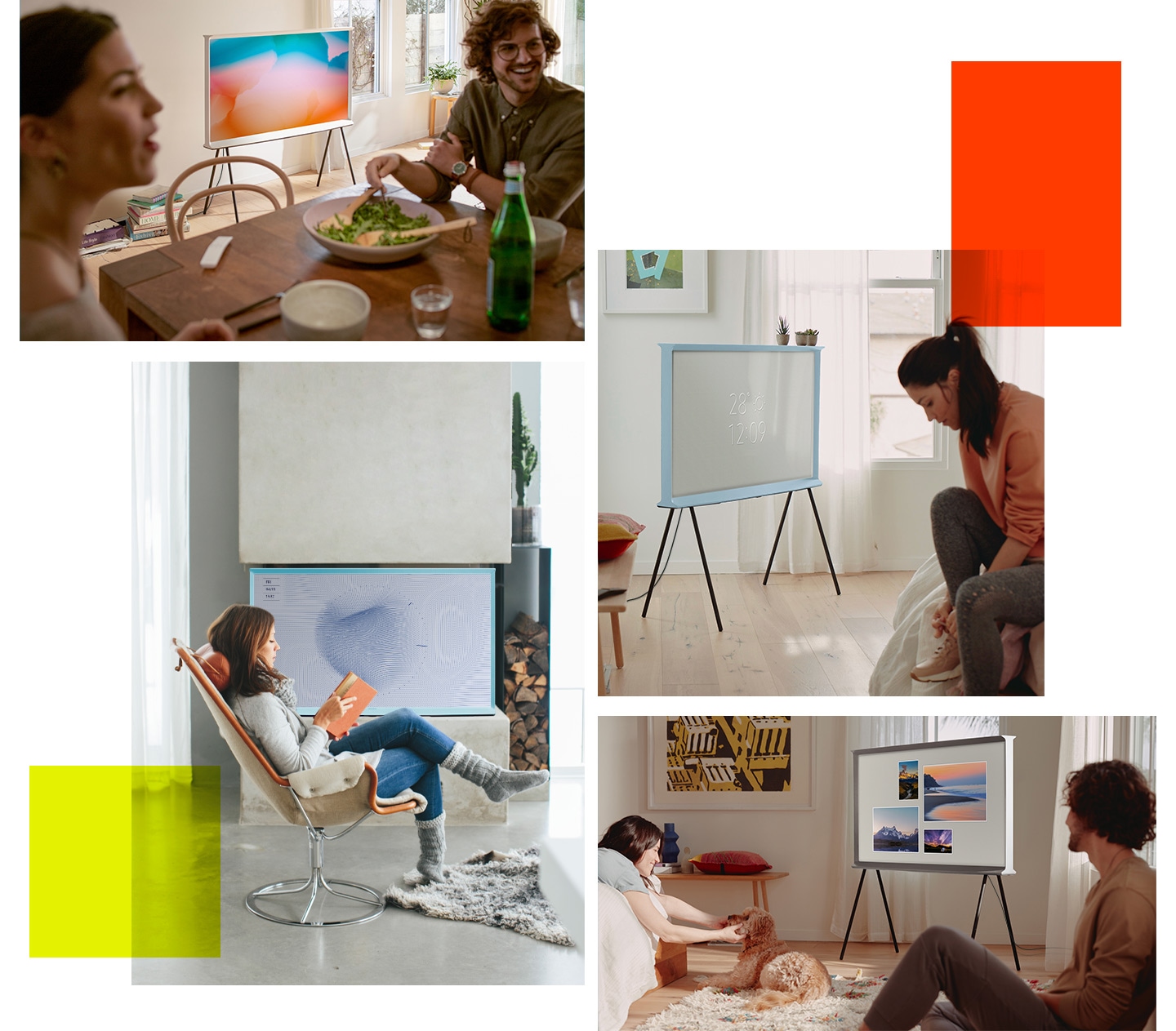 Set the mood with your voice.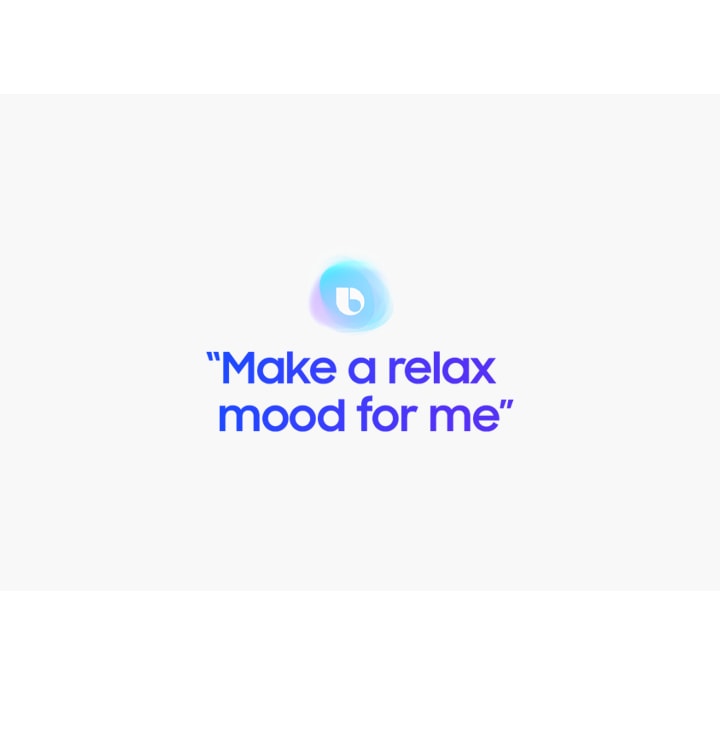 Fit the mood toyour schedule.
Expand your life with seamless connections.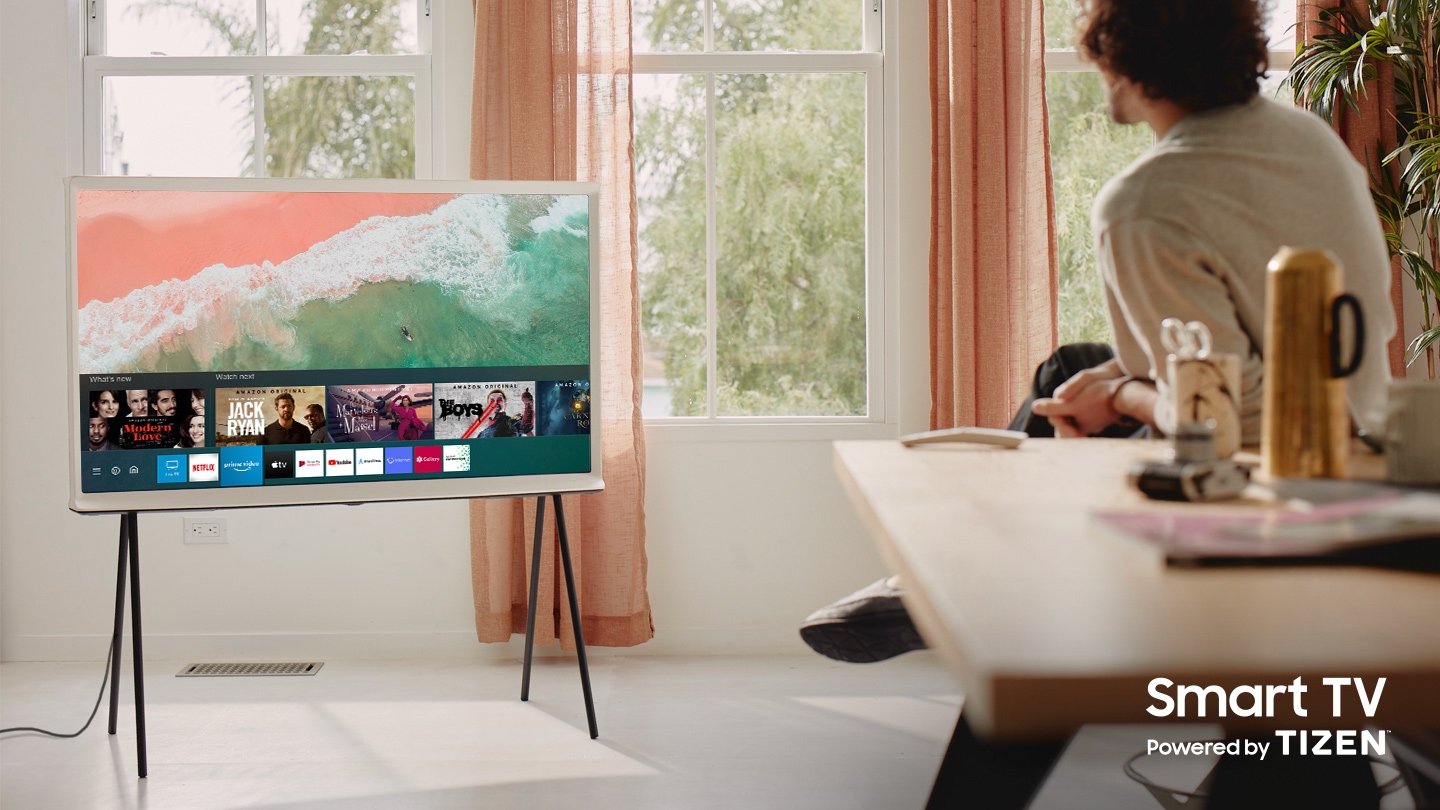 * Smart services and GUI (Graphic User Interface) may vary by model, region, language and mobile device.
* A Samsung Account is required to set up the TV.
* Actual user experience may vary.
* Some features and functions provided by connected devices may not be supported or limited to use.
* Turn-on TV feature support may vary by model.
Mirrors all your experiences.
All your devices, connected in seconds and in simpler way.
* Compatible devices only.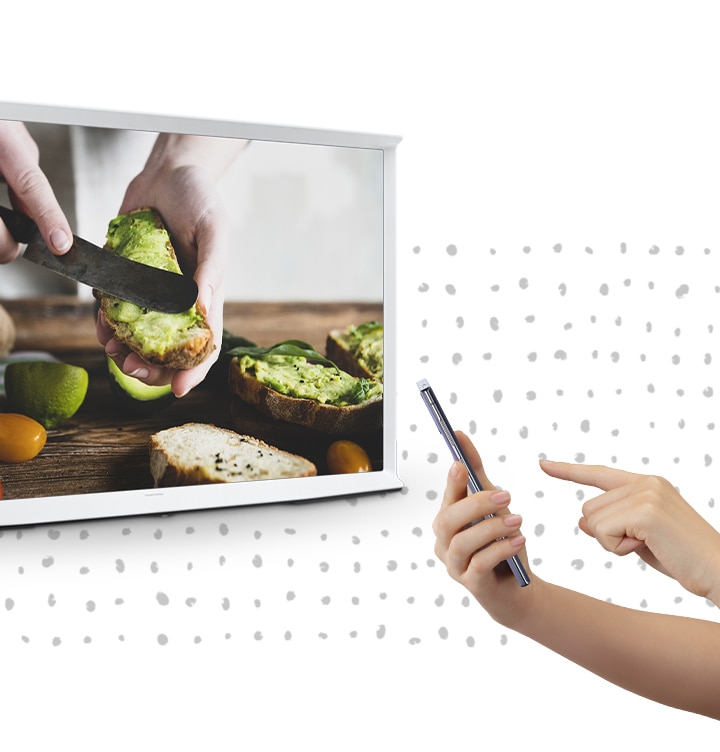 AirPlay 2
With AirPlay 2 built-in you can effortlessly play movies, shows, music and photos on The Serif right from your iPhone, iPad or Mac.
* AirPlay 2 functionality is available on all 2020 and later Samsung smart TV.
* Apple and AirPlay 2 are trademarks of Apple Inc., registered in the U.S. and other countries.
* AirPlay 2 requires iOS 12.3 or later, or macOS 10.14.5 or later.
SmartThings
Start a movie on your smartphone during your commute and easily switch to your Samsung TV when you get home. Whether Android or iOS,the SmartThing's app makes it easy to connect and enjoy.
* Available technology, functions, GUI(Graphic User Interface) and features may vary by region, service provider, network environment, or product, and are subject to change without notice.
* Each device must be connected to Wi-Fi or other wireless network.
* Must download and install the SmartThings app.
* For interoperability through SmartThings, all the devices should be registered with a single Samsung Account.
All it takes is a tap.
Tap View
Whatever you were watching on your mobile phone can be placed on your TV screen with just a quick tap on The Serif.
* Compatible devices only.
* When using NFC on TV, Bluetooth on your mobile will automatically activate.
* This service only works when mobile is on.
* Be sure to tap away from the TV screen and bezel corners. It may be scratched or broken to the TV or mobile device screen.
* Recommend using your mobile device with the cover in place and lightly tap it on any external edge of the TV.
The multi-tasking helps too.
Multi View
Split the TV screen so you can watch what's on TV and what's on your smartphone at the same time without having to look away. Just connect your mobile and multi-task with Multi View. This is more than a remarkable way to use TV.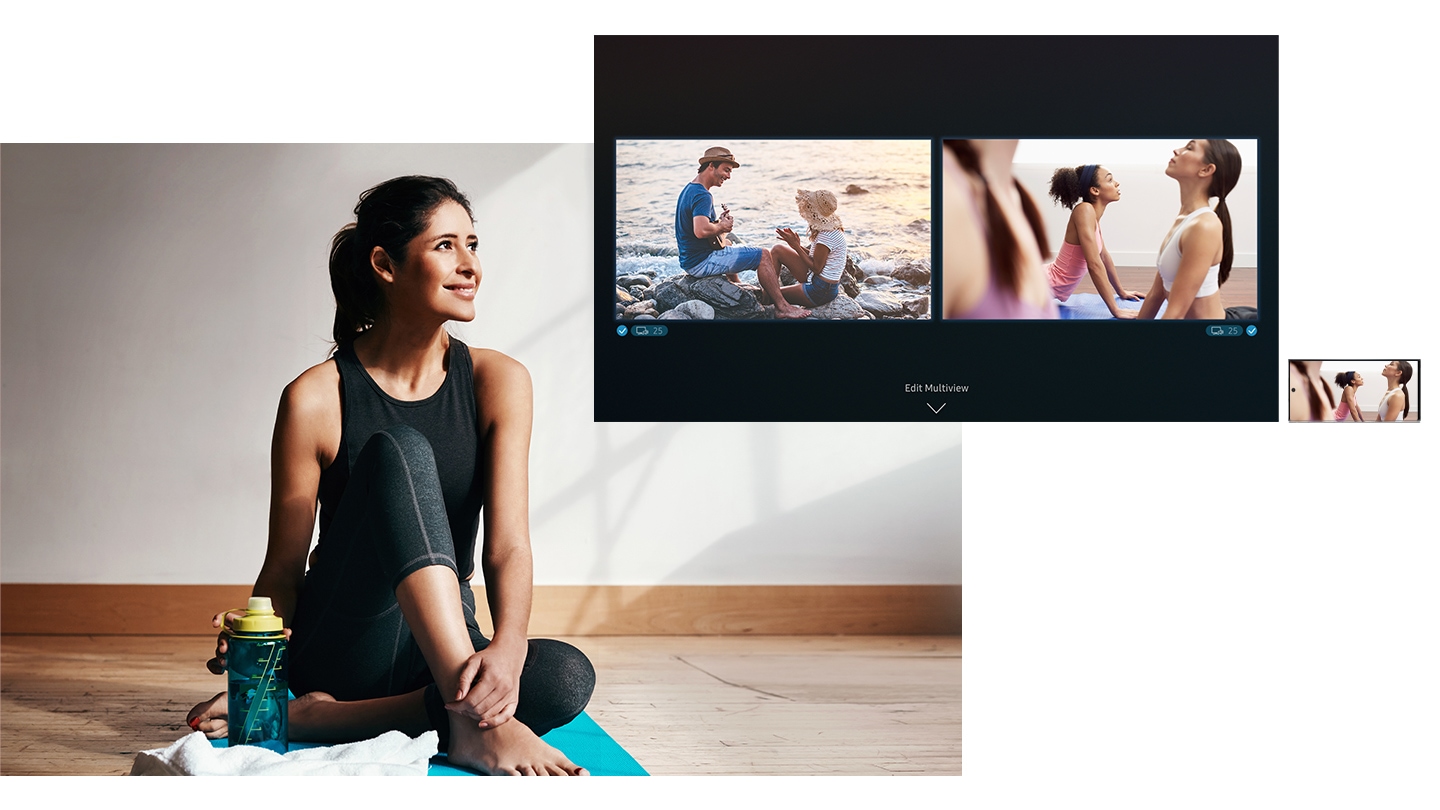 * Available technology, functions, GUI (Graphic User Interface) and smart features may vary by region, service provider, network environment, mobile devices or product, and are subject to change without notice.
* Actual user experience may vary.
* Compatible devices only.
How to Use NFC on TV
Step 1
With the TV screen off, place your mobile device on top of The Serif.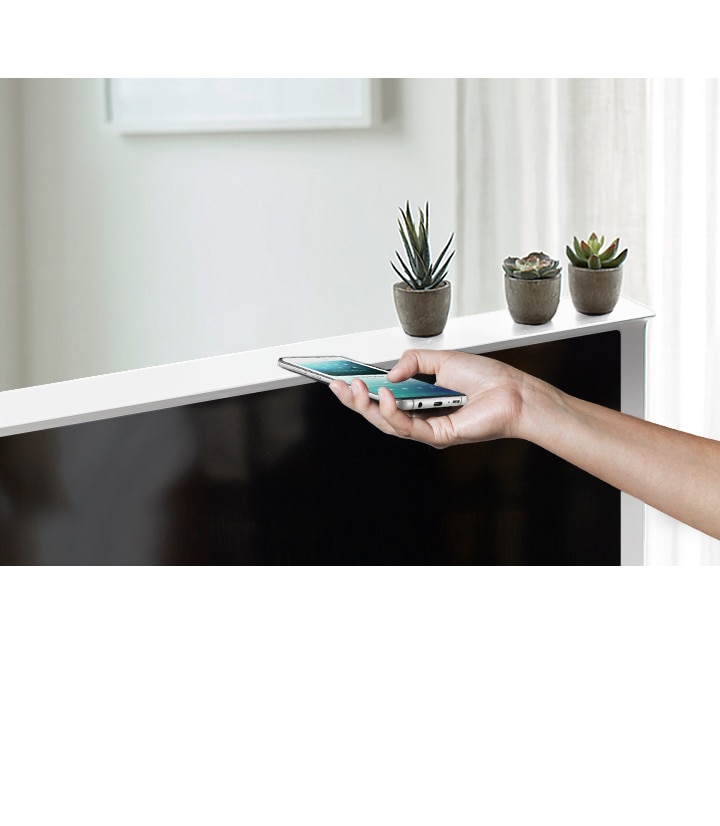 Step 2
Your mobile will connect to the TV via NFC.
Step 3
Now you can stream music from your mobile on The Serif.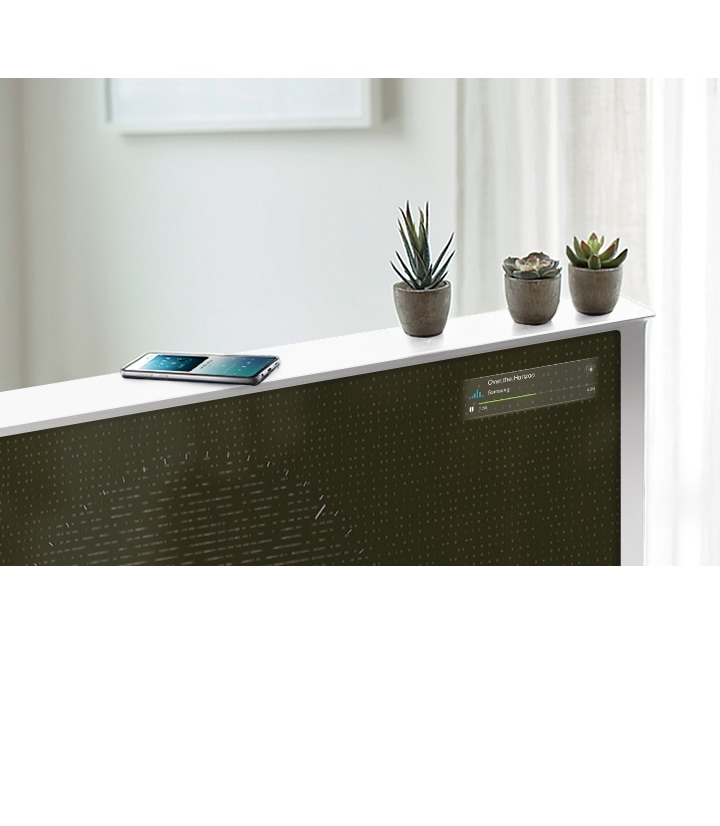 Step 4
You can enjoy your content quickly with the fast connection.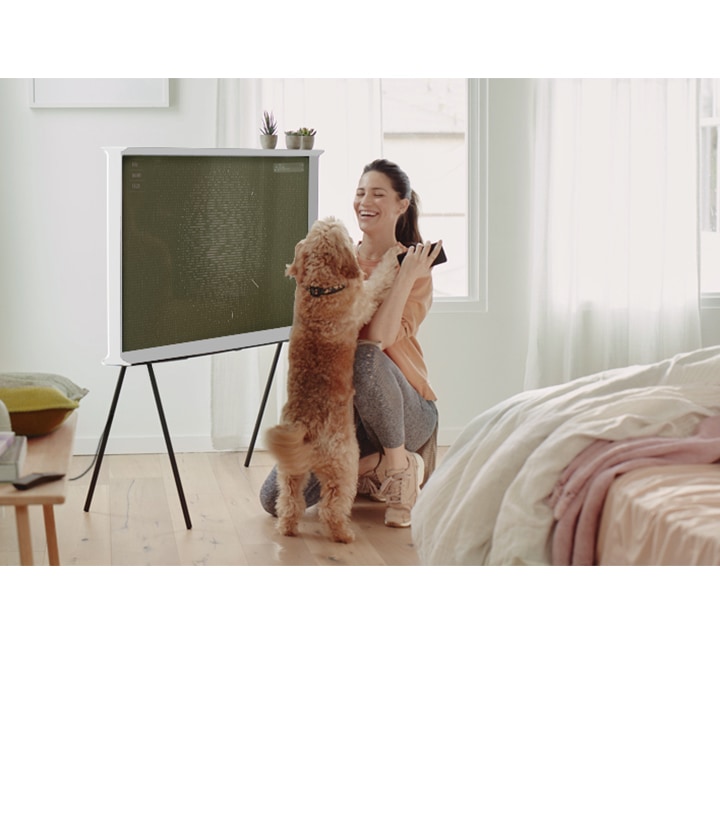 * When using NFC on TV, Bluetooth on your mobile will automatically activate.
It has the power of QLED and an innovation in audio.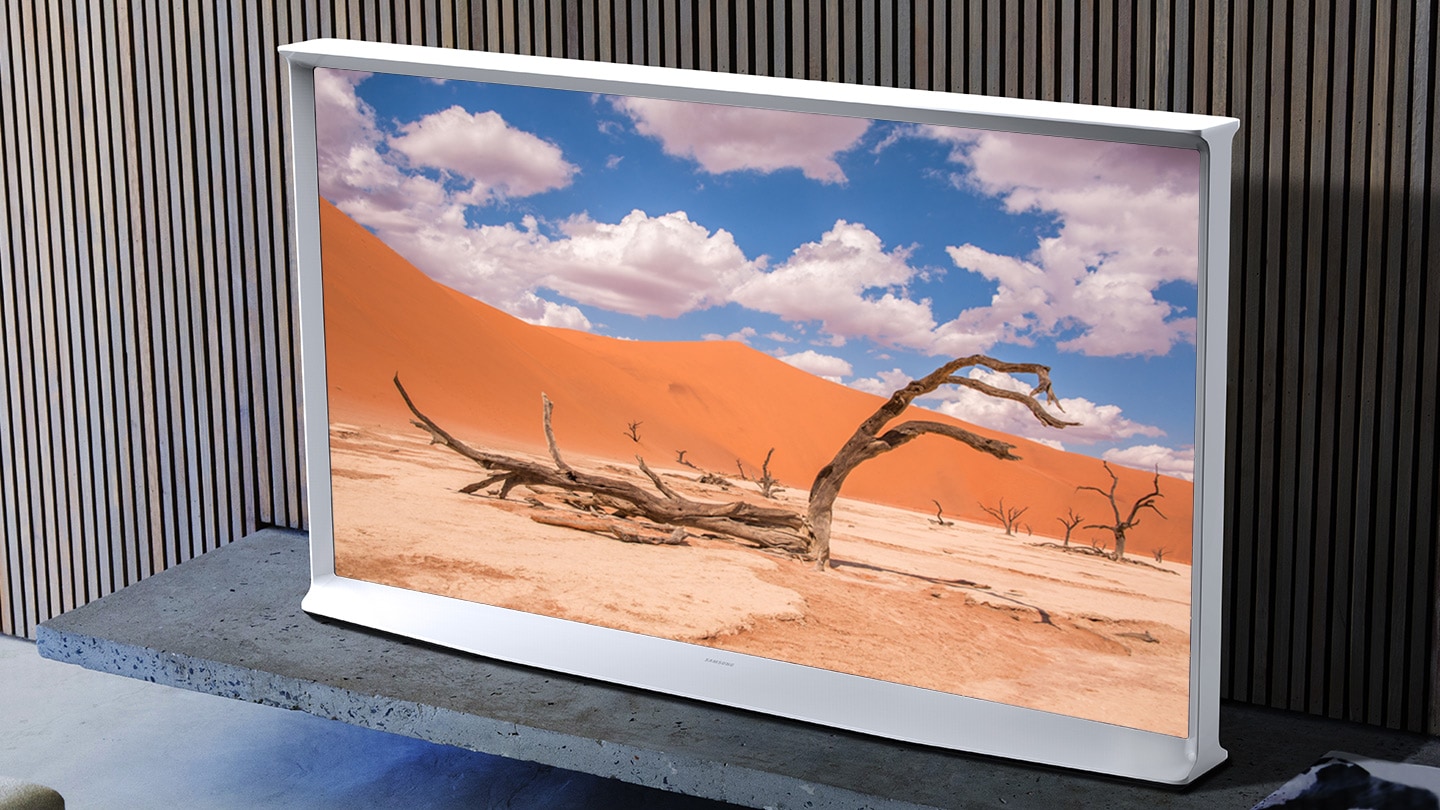 It makes sure you hear what matters.
Active Voice Amplifier (AVA)
Active Voice Amplifier uses audio spatial intelligence to recognize when there are potentially distracting sounds around you. It automatically clarifies the voices on-screen so you don't have to break focus on the dialogues that matter through the advanced sound signal processing.
Your new home office.
Remote Access
Get office work done on your TV at home. Remote Access lets you mirror your computer's display on the TV screen wirelessly. You can even tap into your office PC to access files or work on documents using Microsoft Office 365—all from the comfort of your couch.
* Feature availability may vary by model and region.
* TV and computer must be connected to a network.
* Screen sharing(mirroring) is only supported for Windows 10.
* Remote connection to a PC running on Windows is only supported for Windows 7 or later. And the operation system must be a Professional or higher edition.
* Remote connection to a PC running on Mac is only supported for Mac OS X 10.5 or later.
* PC accessories such as mouse and keyboard are sold separately.
* This service requires setting to allow remote connections within a PC.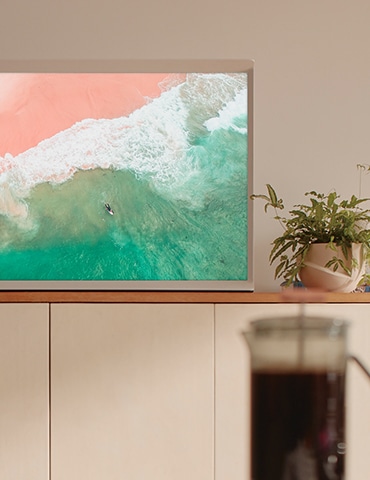 Additional information
| | |
| --- | --- |
| Weight | 22.9 kg |
| Dimensions | 112.3 × 26.5 × 73.4 cm |
| TV Size | |
| TV Technology | |
Only logged in customers who have purchased this product may leave a review.
You may also like…
[wc-ps tag="span"]

2900 Watts
Multi Color Lighting
Party Accelerator
Multi Jukebox
Karaoke Star
Wireless Party Link

Compare

[wc-ps tag="span"]

USB1
Microphone Input 1 (Guitar available)
Dolby Digital
Speaker Light
Long-distance Bass Sound with JET BASS BOOSTER

Looking for an audio system not unlike those of clubs and small concert venues? Make the Sony MHC-V02 High-Power Audio System with BLUETOOTH® Technology. This compact one-box sound system promises powerful bass, long-distance projection, and club-like LED lighting. Put it to work at your next party or gig. Buy it at Savers Appliances, one of the Philippines' most trustworthy appliance retailers!

Compare

[wc-ps tag="span"]

30 Watts RMS
Meridian Technology
Dual Action Bass
Long Battery Life (10 hours)
Water/Splashproof (IPX5)
Voice Command

The LG PL7 XBoom Go Portable Speaker is a perfect option if you need a speaker that offers long battery life, quality sound, and LED lights that can sync with your music. Check out this sleek unit and other models like it on Savers Appliances. Find speakers that can keep up with your lifestyle only in our store. We offer online payment options and delivery services.

Compare