Samsung QA50Q60TAGXXP QLED 4K Smart TV 50″
Pre-order Basis
3,840 x 2,160 Resolution
Power Consumption (Max): 135W
HDMI Ports: 3
USB Ports: 2
4K Upscaling
100% Color Volume with Quantum Dot
Ambient Mode
Bixby Voice Assistant
Compare
Description
Experience watching your favorite shows at full-color volume with the Samsung QA50Q60TAGXXP QLED 4K Smart TV 50″. With its Quantum Dot display, dual LED color tone feature, and Quantum HDR mode, movie and TV night will be even more immersive and enjoyable. Make the Samsung QA50Q60TAGXXP part of your home entertainment system, and buy one at a discount from Savers Appliances now!
The Next Level of Picture Quality
One billion shades of accurate color. Color Volume 100% with Quantum Dot
Quantum Dot Technology delivers our finest picture ever. With Color Volume 100%, Quantum Dot takes light and turns it into breathtaking color that stays true at any level of brightness.
The right color tone for every scene. Dual LED
Dual LED backlighting technology adjusts the color tone to suit the mood of your content so you can watch it the way it was meant to be seen.
Experience a full range of details. Quantum HDR
Quantum HDR brings out the detail and contrast, so you can experience the full power in every image. Going beyond leading standards, the dynamic tone mapping of HDR10+ creates deeper blacks, more vibrant imagery, and detail that always shines through.
See the picture, not the TV. 3-side Boundless Design
A sleek and elegant design that draws you to the purest picture. Crafted with an effortless minimalistic style from every angle and a boundless that sets new standards. You will see only our most immersive cinematic experience ever.
Decorate your space with your favorite photos. Ambient Mode
When you project your favorite photos onto the TV screen, the TV itself blends into your décor elegantly. You can lay out multiple photos in a beautiful collage or place them in a slide show for to keep the visual fresh and on point.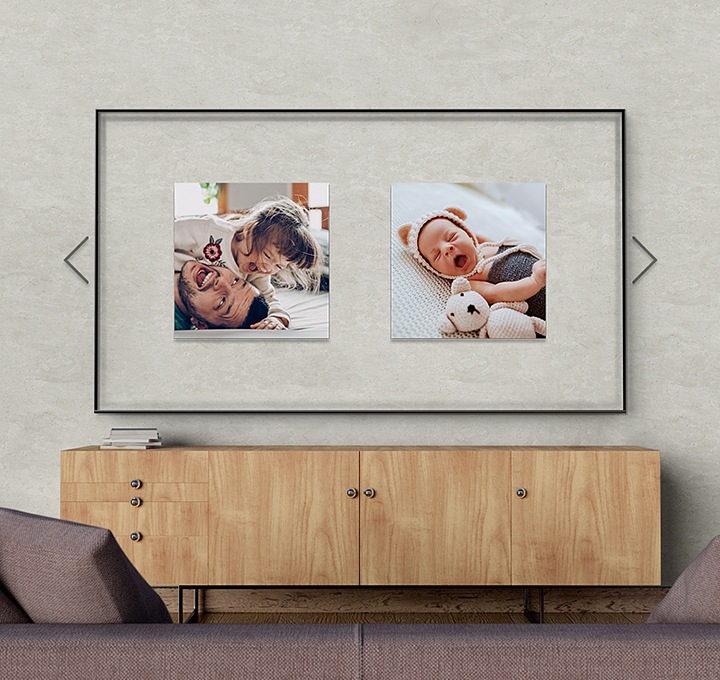 Access various content with one remote. Smart Hub & One Remote Control
It's all you need to discover tons of different content in one place and get maximum enjoyment. The sleek One Remote Control keeps it simple, allowing you to quickly search all your favorite content from your set-top box to game console, apps, and even live TV.
See multiple contents at the same time. Multi View
Multi View splits your TV screen in two, putting the content you're watching on one side, and mirroring your mobile screen on the other. This means you don't have to look away from the TV screen to glance at your phone anymore.
Start your smart home life with QLED. SmartThings Dashboard
QLED works with SmartThings to put you in control of your smart home. QLED links with IoT devices and sensors so you can turn on the lights, check what's inside your fridge, and even run the robot vacuum cleaner right from the comfort of your couch. It's a whole new world.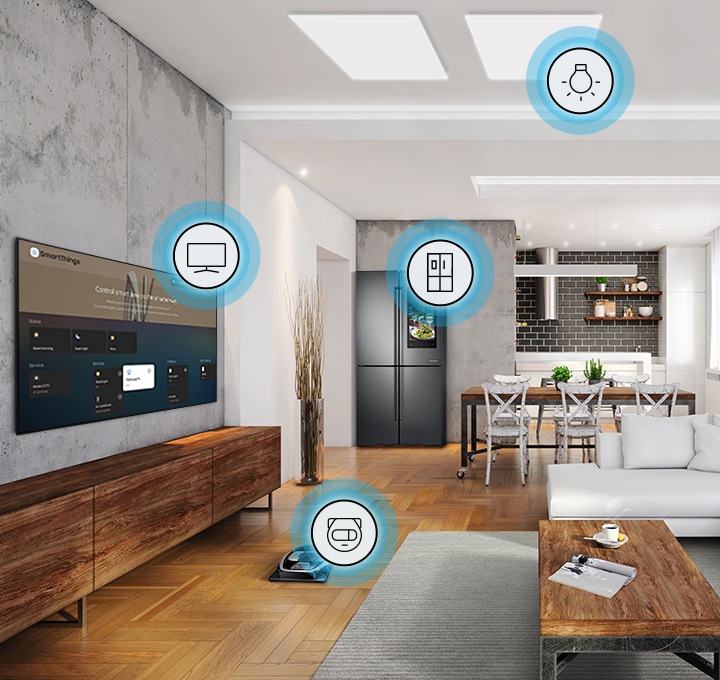 With the many flat-screen smart TVs available in the market, from which brand should you choose your next one? One great choice for next-level TV viewing is the Samsung QA50Q60TAGXXP QLED 4K Smart TV 50″. This handsome 50-inch TV, producing images at an impressive 3840 x 2160 resolution, can either be mounted on the wall or stand on its own. It comes with 3 HDMI ports and 2 USB ports, and it's perfectly compatible with Samsung's all-around One Remote Control. That gives you a lot of options about where to watch your favorite content from.
Several qualities about the Samsung QA50Q60TAGXXP contribute to its beautiful, colorful, and clear display. This TV achieves 100% color volume, thanks to its Quantum Dot display technology, which relies on pure monochromatic red, green, and blue light. Even from a distance, you'll notice the rich colors projected on your TV, and how they remain colorful at any level of brightness. In addition, the Samsung QA50Q60TAGXXP also has a dual-LED backlighting option that can adjust the color tone and mood of the content. It also sports a Quantum HDR mode with dynamic tone mapping, providing a highly detailed perspective on each line, curve, and shade you see on your screen.
There are other nifty things that you can do with your Samsung QA50Q60TAGXXP. It has a Multi-View option that can split the TV screen into two. You can watch one type of content from the TV on one side, while you play a video from your mobile device on the other. This model is also compatible with Samsung's SmartThings app, which can connect it to other Internet of Things (IoT) products in your household like your fridge. With the addition of the Samsung QA50Q60TAGXXP to your entertainment system, you'll be on your way to living in a full-fledged smart home.
The Samsung QA50Q60TAGXXP QLED 4K Smart TV 50″ is available from Savers Appliance at the best market price compared to other stores. Shop at Savers Appliances and buy one for your home today!
Only logged in customers who have purchased this product may leave a review.