Samsung QA65LST7T Terrace Outdoor TV 65″
Pre-order Basis
4K Smart TV
Resolution: 3,840 x 2,160

Weather-Resistant Durability IP55 Rated

Smart TV Powered by Tizen

Ultra Bright Picture Quality with QLED Technology

Wide Viewing Angle with Anti-glare
Compare
Description
Samsung QLED Experience, Now Outdoors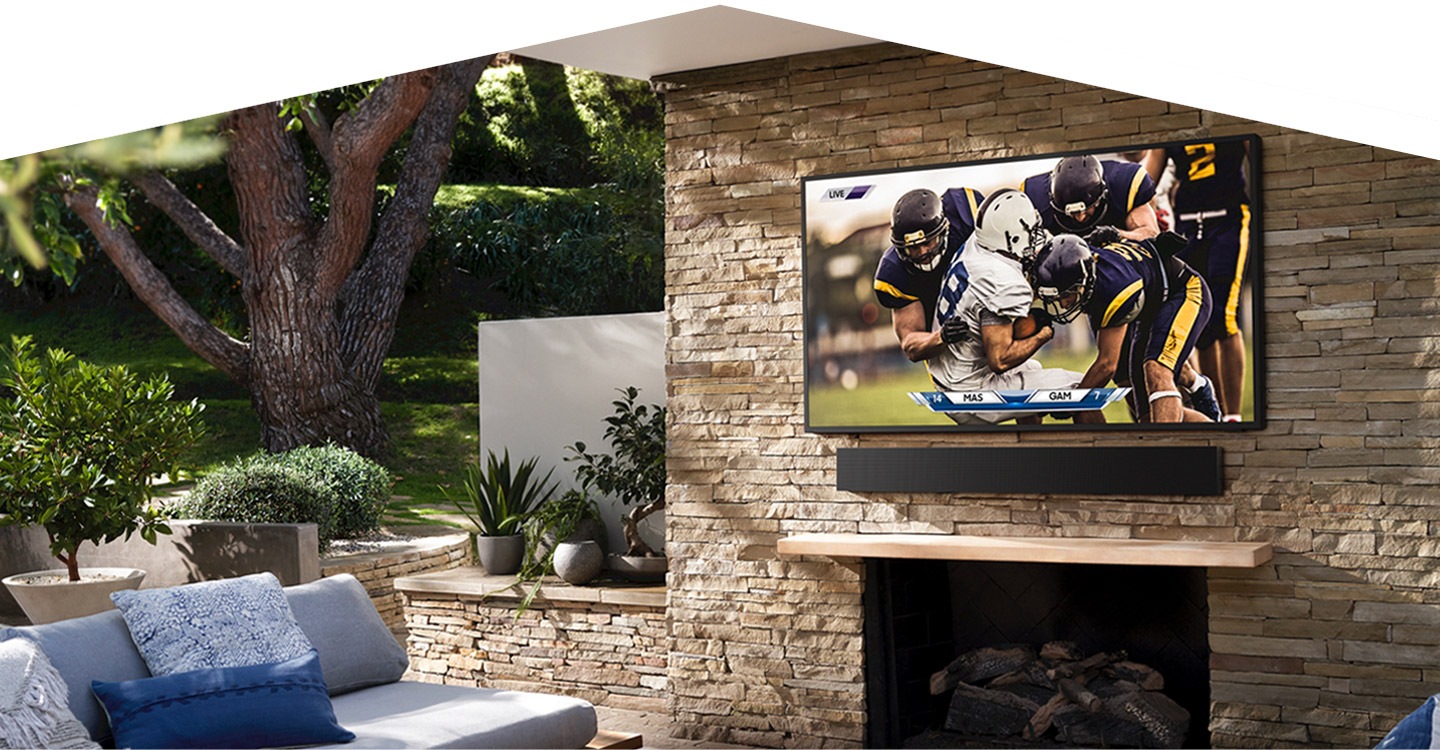 Bright and Brilliant—4K QLED Outdoor TV. Ultra Bright Picture Quality
When it comes to indoor TV picture quality, you expect nothing but the best from Samsung. With 4K QLED and the ability to deliver up to 2,000 nit brightness levels, you can now experience superior picture quality and optimized visibility from your favorite outdoor living areas.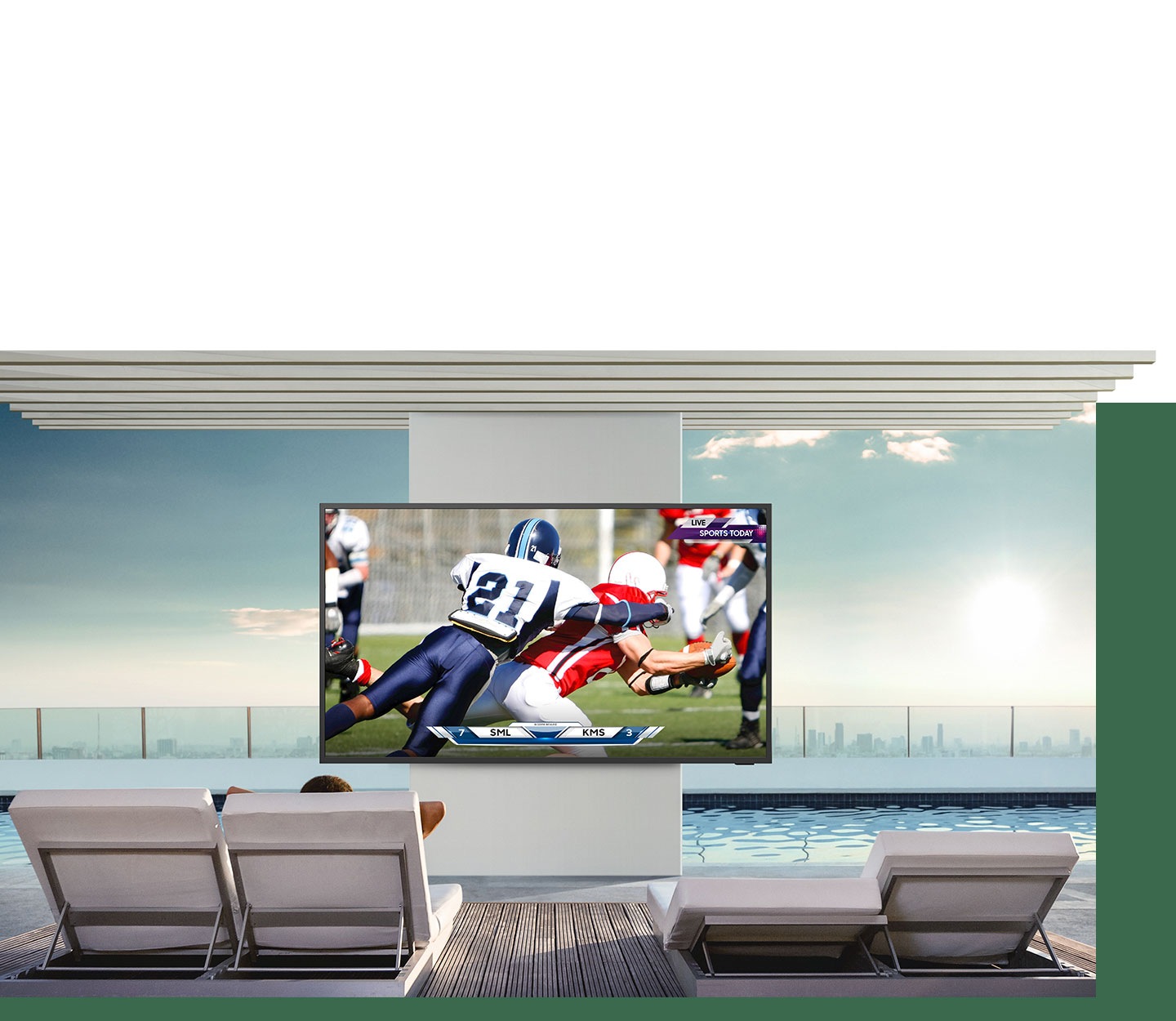 More ways to enjoy TV. Smart TV Built-in
The Terrace is the easier, smarter way to enjoy all that you love to watch. Control your TV with just your voice, and dive into a world of content with just a click. The Terrace is loaded with ways to give you a simpler, more fun viewing experience.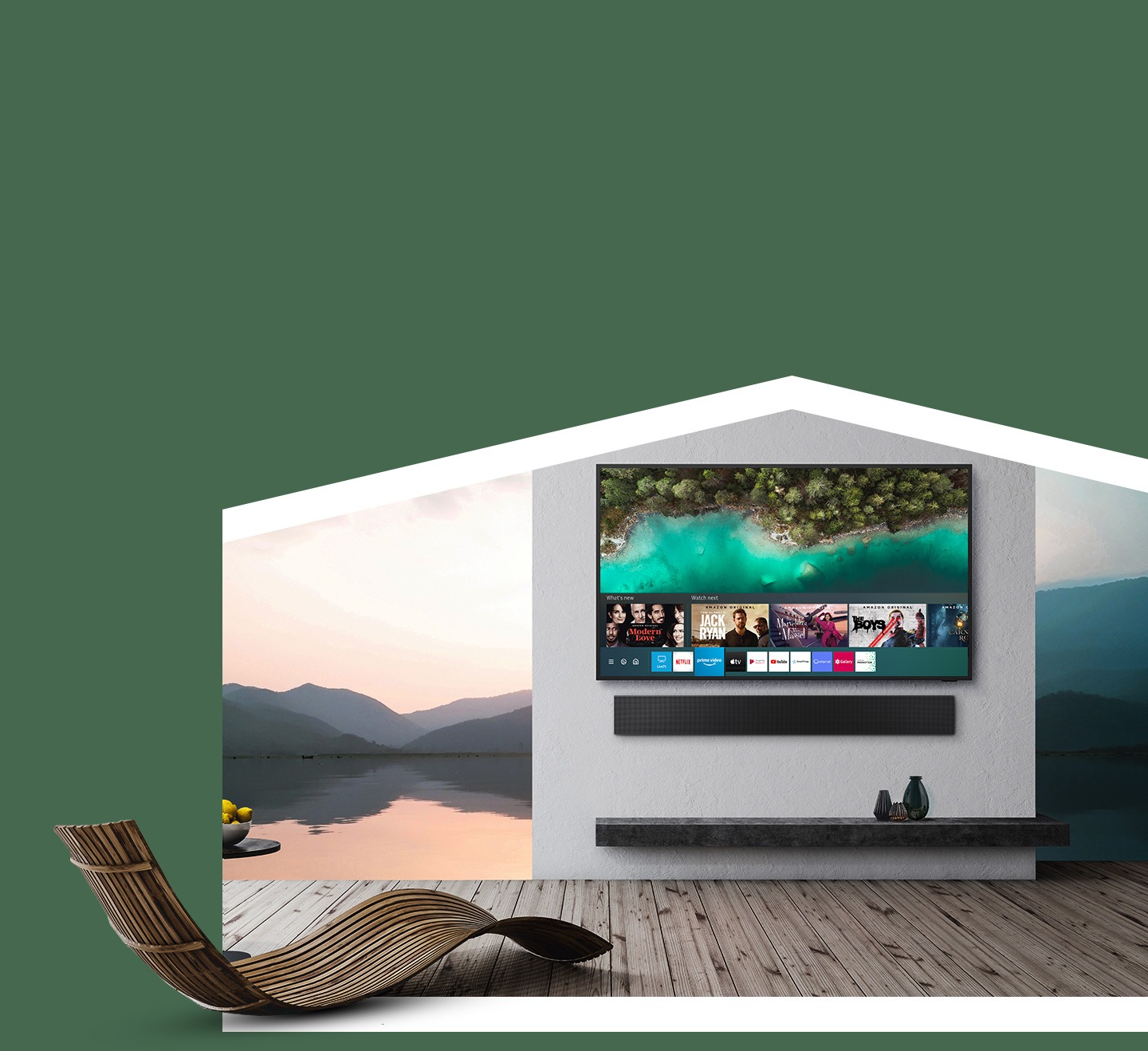 TV that was made to live outdoors. Weather-Resistant Durability (IP55 Rated)
The Terrace is your year-round solution for outdoor entertainment. No matter the season, its IP55 weatherproof rating delivers full performance and protection from the outdoor elements including humidity, dust and heat. Thanks to The Terrace, the weather is no reason to worry.
The ultra-smooth way to experience 4K QLED. QLED 4K MR240
The Terrace features Color Volume 100% technology which delivers rich and accurate 4K QLED color quality in every scene, even in the sunlight. An impressive, high motion rate cuts out the blur between fast-paced images for an ultra-smooth viewing experience for gaming or when watching sports, movies, and more.
More visibility, less glare. Anti-Reflection
The Terrace features impressive anti-reflection technology, greatly reducing TV reflection and glare while also enhancing picture contrast levels. Sunny days are now perfect days to enjoy your favorite content outdoors.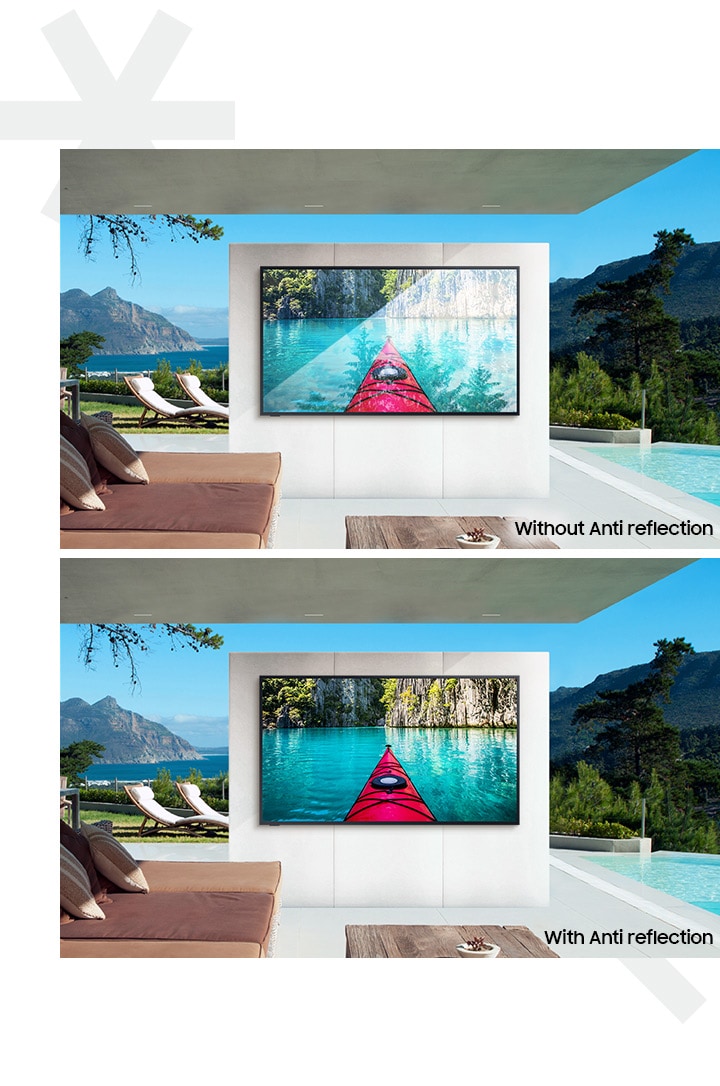 Discover the details in bold contrasts. Direct Full Array 16x
Precisely controlled backlights intelligently adjust to deliver richer blacks. Brace yourself for crisp details with unparalleled contrast.
Upgrade what you like to 4K. 4K AI Upscaling
4K AI upscaling uses Samsung's powerful Quantum Processor, automatically analyzing the input source to reduce image noise, restore lost detail, and define edges around objects and text. Now you can get 4K resolution images and sound, regardless of the source.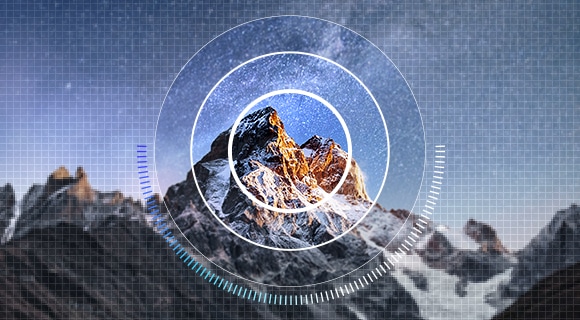 Surroundings change, picture stays perfect. Adaptive Picture
Actively adapt to the viewing environment by automatically adjusting the brightness. Experience perfect picture, no matter what time of day or content you're watching.
The best Samsung HDR picture, from brilliant color to the darkest details. HDR 32x
Quantum HDR 32x sets the new standard for incredible detail and brightness. Enjoy rich, accurate color and deeper contrast with crisp detail. The dynamic tone mapping of HDR10+ shifts color and contrast scene by scene, allowing you to appreciate even the slightest nuances.
Unlock More Possibilities with your Mobile
Just tap to mirror. Tap View
Mirroring movies or music from your smartphone to TV is as simple as a tap. When you tap TV with your smartphone, the TV senses the tap and mirrors automatically. So it's quick and easy to switch to the TV and continue enjoying your favorite content.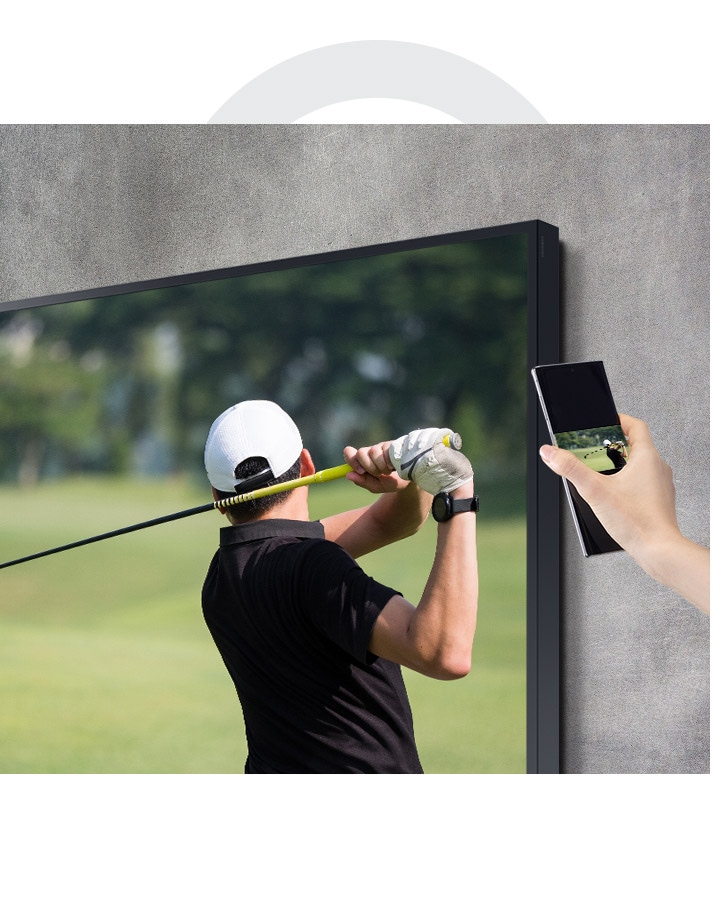 See multiple contents at the same time. Multi View
Multi View splits your TV screen in two, putting the content you're watching on one side, and mirroring your mobile screen on the other. This means you don't have to look away from the TV screen to glance at your phone anymore.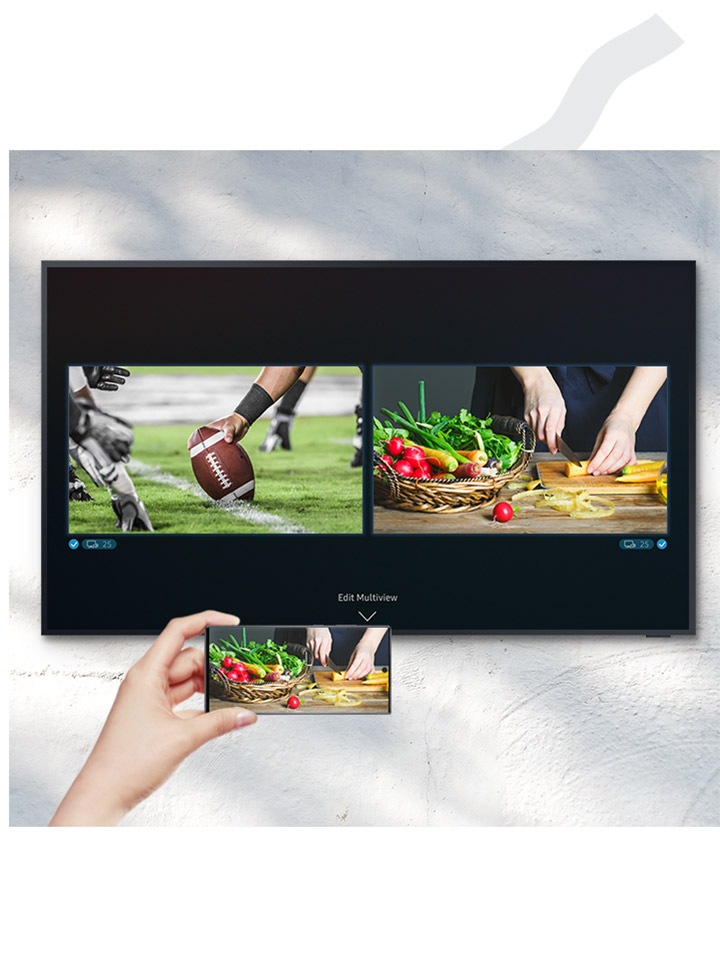 One cable, clutter-free connectivity. HD Base-T Receiver Included
OneRemote for all-weather durability. IP56 Remote Control
Connect your external devices to The Terrace and let OneRemote take control of your outdoor television experience. But your OneRemote is more than an all-powerful, ultra-comfortable remote control. It also boasts an IP56 weather rating for year-round weather protection-rain, humidity, dust and heat.
Powerfully integrated, simple to use. One Remote Control / SmartThings App / Smart Hub
The Terrace makes your digital life a breeze. One Remote Control and the SmartThings App let you effortlessly access and control your connected devices. You can also use Smart Hub to easily search for content, browse the web, and explore awesome apps.
Only logged in customers who have purchased this product may leave a review.