Samsung Split Type Aircon WindFree Premium Inverter 1.5HP AR13CYECABTNTC with Installation Package
This item will be released at a future date.
1.5HP Inverter
Capacity (Cooling, kJ/h)

12660 kJ/hW

SmartThings

77% Energy-Saving

5-Star Energy-Efficiency Rating

Anti-Bacterial Filter

Power Consumption 1050W
Compare
Description
Cool more, sleep more


Stay comfortably cool
WindFree™ Cooling
Stay comfortable cool with WindFree™ Cooling. It gently and quietly disperses air through 23,000 micro air holes, so there is no unpleasant feeling of cold wind on your skin. Its advanced airflow also cools a wider and larger area more evenly. And it uses 77% less energy than Fast Cooling***.


Trendy modern look
WindFree™ BLACK
Give your home a real touch of style with an elegantly modern look that reflects the current trend for dark colors. "WindFree™ BLACK " finish is a deep dark color that blends in harmoniously with the luxurious dark tones of modern interiors and will look good in almost any room in your house


Enjoy a good night's sleep& save energy
WindFree™ Good Sleep
Get a really good night's sleep every night. The WindFree™ Good Sleep mode creates the ideal climate for sleeping – without an unpleasant cold air flow. Its temperature control with WindFree™ cooling helps you fall asleep fast, sleep deeply and comfortably and wake up feeling fully refreshed


Cools you faster
Fast Cooling
Cool rooms quickly from corner to corner, so feel comfortable wherever you are. Digital Inverter technology cools the air 43% faster*. Its advanced design also has a 15% larger fan, 18% wider inlet and a 31% wider blade. So cool air is dispersed farther and wider**, reaching up to 15 meters.


Easy to clean, removes airborne bacteria
Copper Anti-bacterial Filter
Keep the air conditioner working efficiently with less effort. The Copper Anti-bacterial Filter is located outside, on the top, so it can easily be removed and cleaned. Its dense mesh keeps the Heat Exchanger clean. The copper material contained in the yarn helps reduce up to 99% harmful bacteria*.


Easy to clean anti-bacterial filter
Easy Filter Plus
Keep your air conditioner working efficiently with less effort. The Easy Filter Plus is located outside, on the top, so it can easily be taken out and cleaned. Its dense mesh keeps the Heat Exchanger clean and an anti-bacterial coating helps protect you against dangerous airborne contaminants*.


Automatically smarter
AI Auto Cooling
Experience an intelligent way of living with AI Auto Cooling*. It automatically optimizes the various modes by analyzing the room conditions and usage patterns**. Based on your preferred temperature, it automatically switches to the most appropriate mode*** to maintain the optimal conditions.


Optimized comfort, more energy savings
Digital Inverter Boost
Save money every day with highly energy-efficient Digital Inverter Boost technology. It maintains the desired temperature with less fluctuation. It also has strong magnets and a Muffler, so it works efficiently and produces less noise and vibration. And it reduces energy usage by up to 73%*.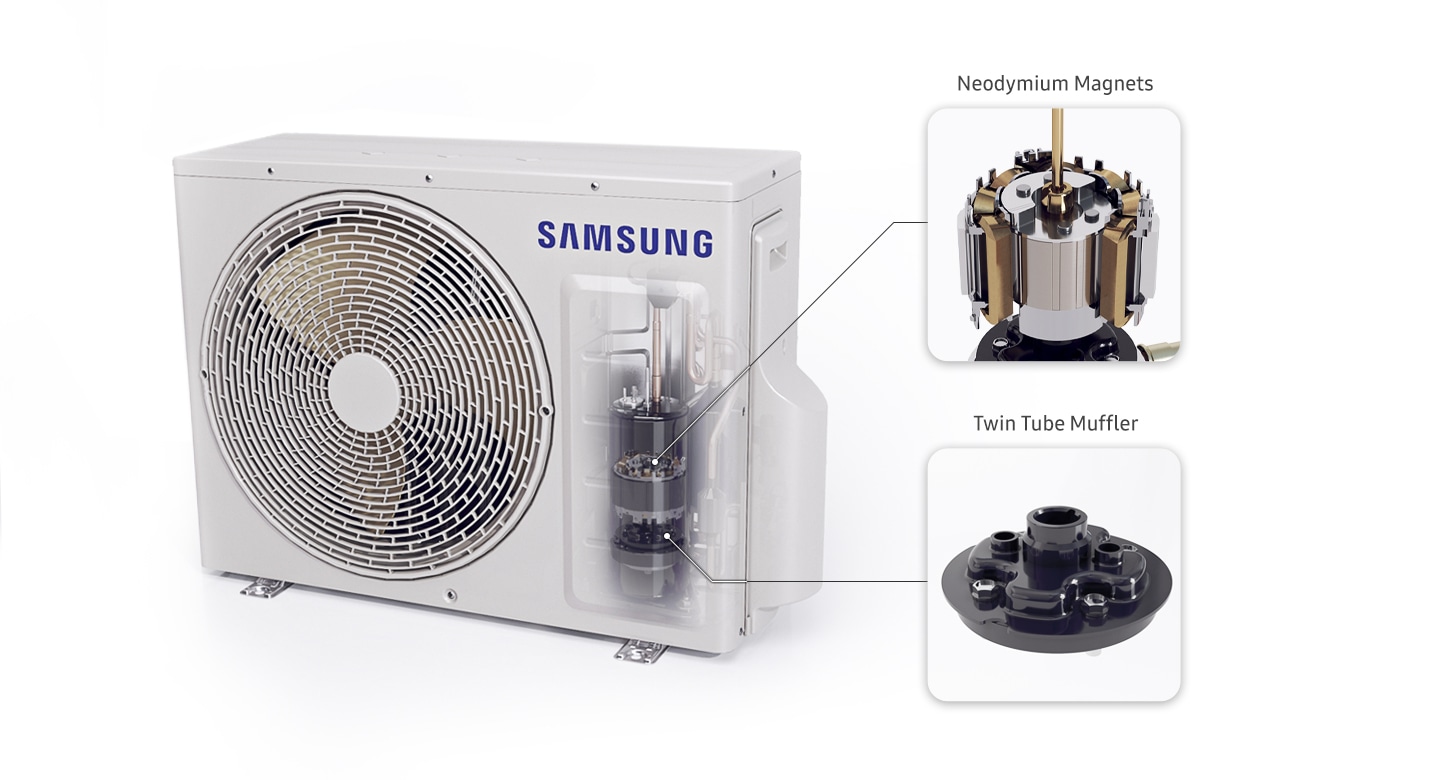 Simply smart control with a touch or voice
SmartThings
Control the air conditioner anytime and anywhere. The SmartThings App* lets you remotely control and monitor it with a touch. Using a voice recognition assistant**, like Samsung Bixby***, or Google Assistant****, you can tell it what to do. It even suggests the best settings.


Smart energy savings
SmartThings Energy
Control energy usage to reduce your bills. SmartThings Energy* lets you easily check your power consumption**. If the estimated amount*** exceeds your target, it adjusts the energy usage of all smart appliances. When the air conditioner is on it draws the blinds and alerts you if you go out.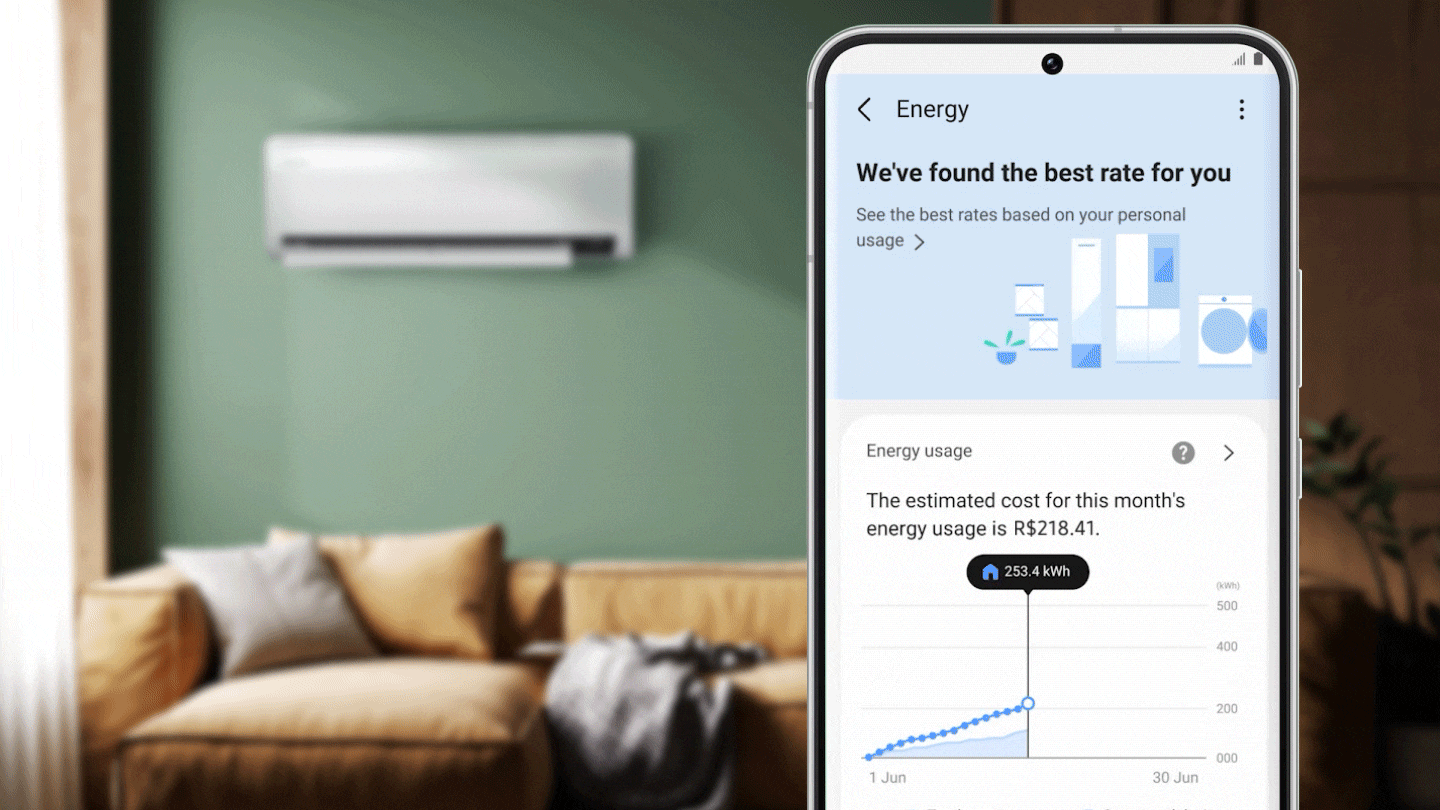 Additional information
| | |
| --- | --- |
| Weight | 30.8 kg |
| Dimensions | 88 × 34 × 84 cm |
| Aircon Capacity | |
| Aircon Technology | |
| Other Technology | |
Only logged in customers who have purchased this product may leave a review.