Eufy Homevac H11 B2B – AU Black Iteration 1 T2521111
PRE-ORDER BASIS
Move with Freedom, Clean with Style
Ideal for Everyday Mess
Strong Suction that Lasts
Simple Maintenance, Efficient Cleaning
Designed for Comfort and Control
Suitable for Delicate Surfaces
Sold Out
Compare
Description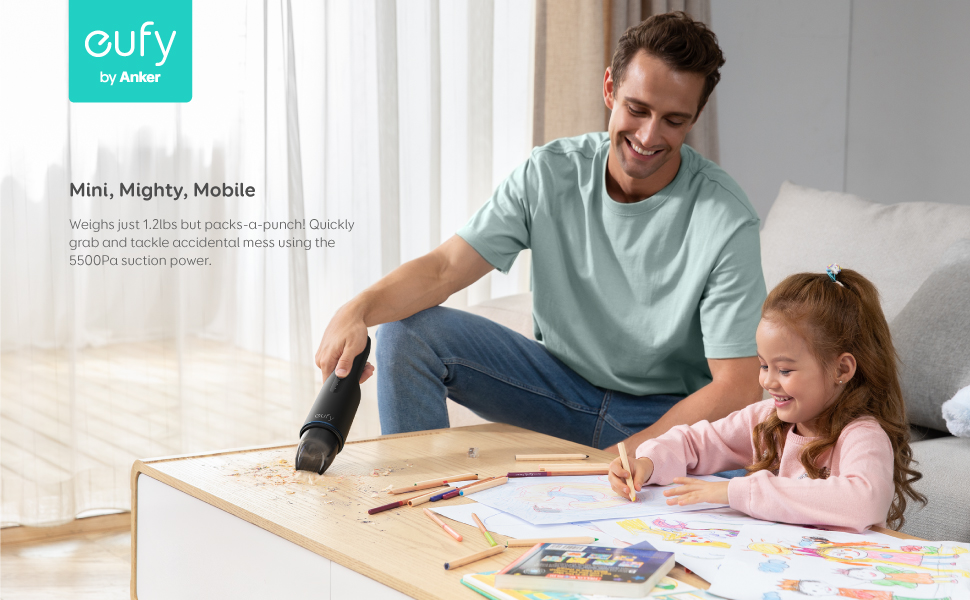 One-Pass Suction Power
The dust-devouring 5500Pa suction power instantly cleans up everyday mess, the first time of asking.
Washable High-Efficiency Filter
For simple maintenance and efficient cleaning.
Note: Compared to HomeVac duo.
Suitable for Delicate Surfaces
Use the brush on the 2-in-1 crevice tool when a softer touch is required.
Pet Hair to Breadcrumbs
Suck up hair and everyday mess using the default nozzle.
Seamless Storage
Completely cordless, weighing just 1.2lbs, and roughly the size of a wine bottle. Cleaning is made effortless and storage is made simple.
Hard to Reach Crumbs
Use the extension nozzle on the 2-in-1 crevice tool to reach into the deepest corners of your sofa or under low-lying furniture.
Designed for Control and Mobility
The ergonomic, non-slip design allows for comfort and precise handling.
Convenient Charging
Charge anywhere at home by simply connecting to any USB port.
The Eufy Homevac H11 B2B – AU Black Iteration 1 T2521111 is the practical solution for your everyday mess control. The Eufy Homevac is a portable, handheld appliance that provides the user with precision, comfort, and control when vacuuming all kinds of debris. Order yours today from Savers Appliances Philippines.
If you're looking for an appliance that can help you manage dust, dirt, and other home pollutants effectively, then the Eufy Homevac H11 B2B – AU Black Iteration 1 T2521111 is the appliance you need. It comes in a portable, handheld style with cordless operation, making it easy to use anywhere in your home. You can even use it to clean tight and hard-to-reach spaces like under keyboard caps, between couch cushions, and inside cabinet drawers.
The Homevac H11 also comes with a washable, high-efficiency filter, making it easy to clean and maintain after each use. What's more, it boasts a 5500Pa suction power, allowing it to suck up dirt in seconds. This handheld appliance is easy to use, store, charge, and bring along wherever you go. Thanks to its micro-USB connectivity, you can use it at home and even in your car.
Order your Eufy Homevac H11 B2B – AU Black Iteration 1 T2521111 from Savers Appliances and enjoy a hassle-free way to shop for your household appliances online! We have a wide range of appliances for sale from the most trusted brands, so you can definitely find appliances that fit your budget and household's needs. We accept payments via credit card, bank deposit, and COD.
Additional information
| | |
| --- | --- |
| Weight | 1.15 kg |
| Dimensions | 37.99 × 15.18 × 9.39 cm |
Only logged in customers who have purchased this product may leave a review.