Haier Front Load Washing Machine Inverter 8kg HW80-BP12929S6
LIMITED STOCK AVAILABLE
Eco Wash
Quiet Wash
Super 525mm Drum
Ai-DBT – Ai-Dynamic Balance Technology
Steam Function
Dual Spray
Stainless Steel Drum
15 Wash Programs
Model:HW180-BP12929S6
Type: Front Load Automatic
Motor Type: BLDC Inverter Motor
Total Capacity: 8kg
RPM: 1200
Compare
Description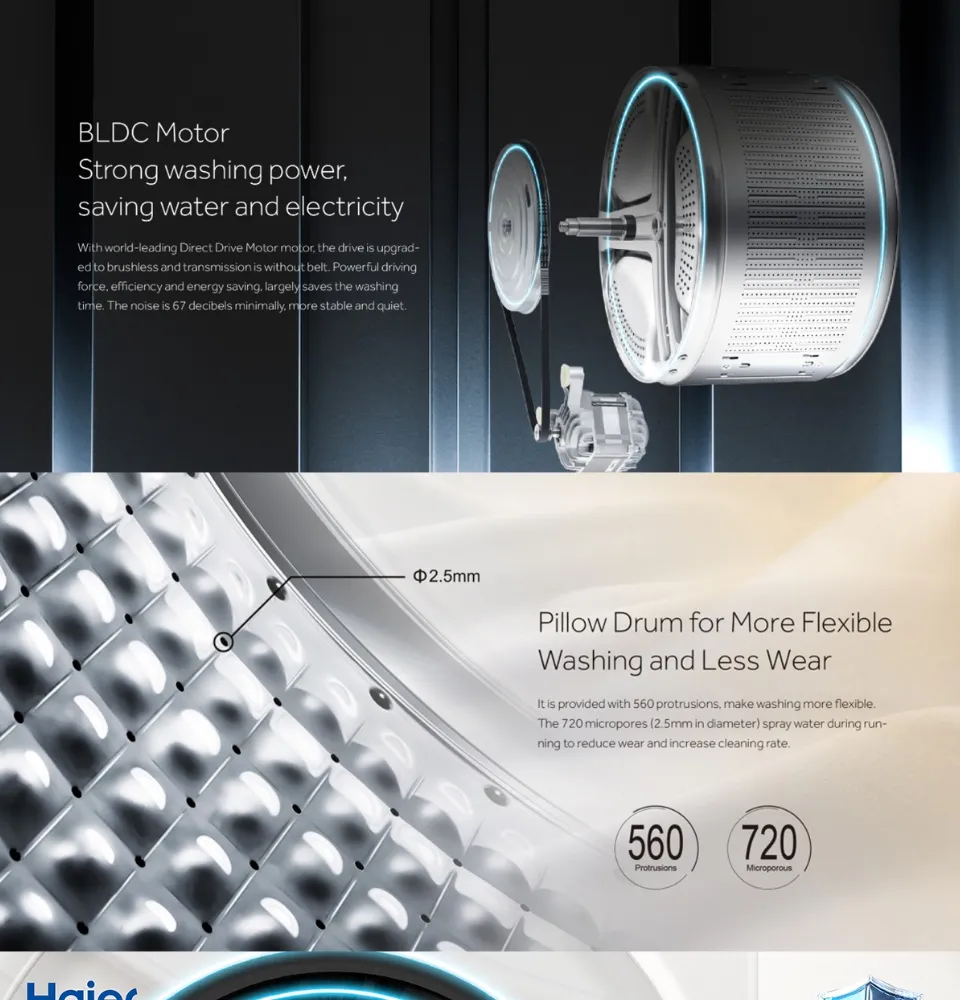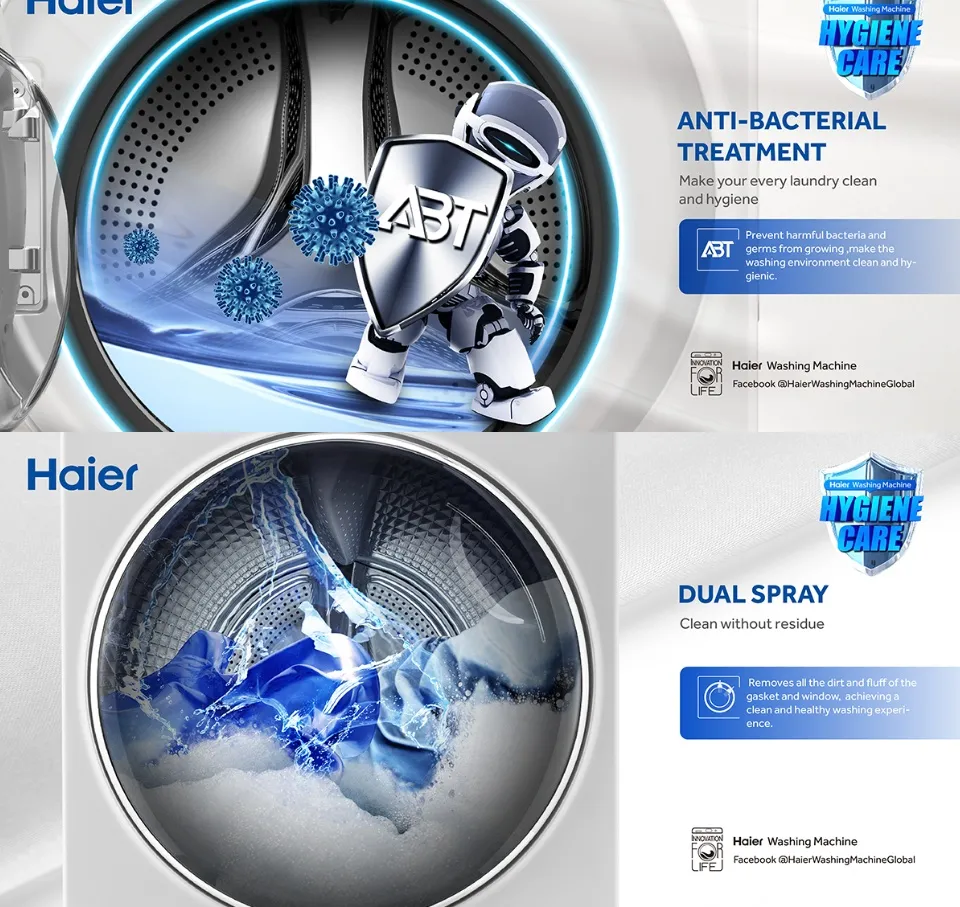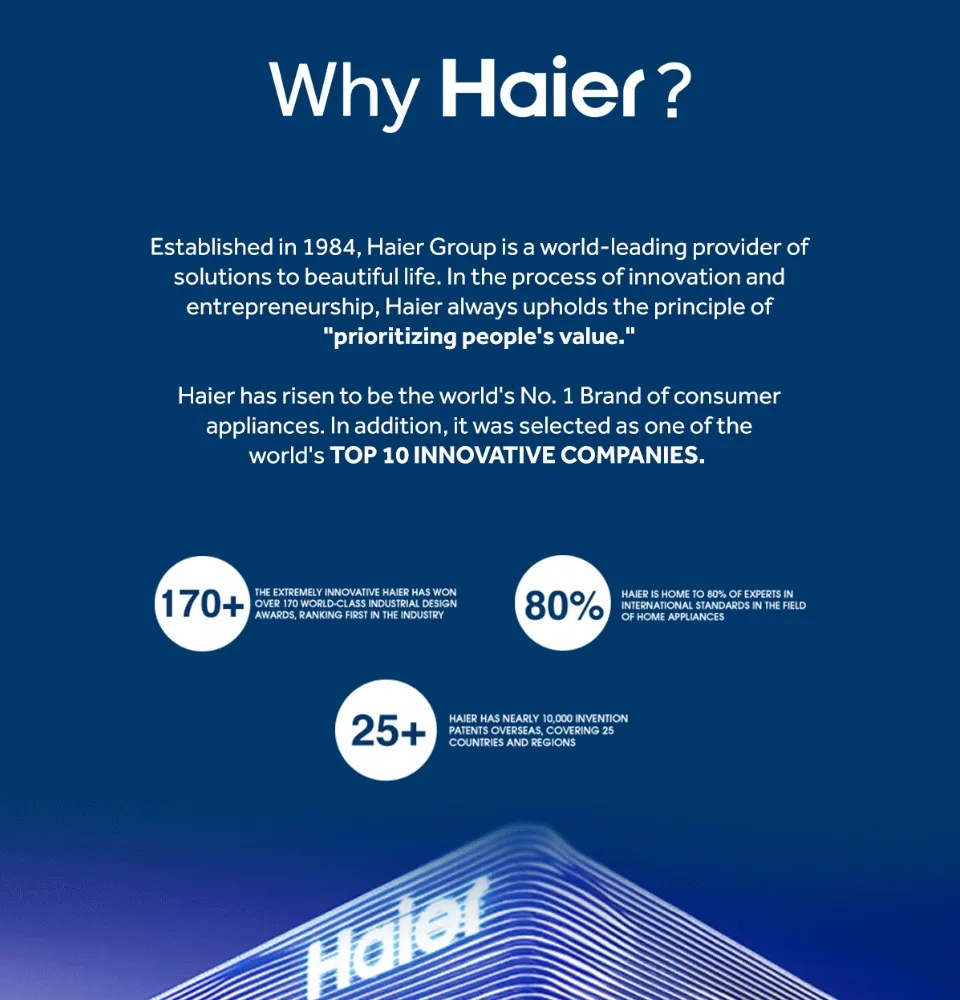 Keep your family's clothes clean and hygienic with the Haier Front Load Washing Machine Inverter 8kg HW80-BP12929S6. Equipped with AI-DBT (Artificial Intelligence-Dynamic Balance Technology), this front-load automatic washing machine is engineered to stay quiet and stable all throughout the wash cycle. In fact, the machine barely registers 67 decibels, so you can enjoy a peaceful reprieve while your machine handles your laundry. What's more, this washing machine ensures an energy-efficient operation with its powerful brushless direct current (BLDC) inverter motor. This is game-changing technology that can help you save on your electricity bills. Meanwhile, the machine's super 525mm pillow stainless steel drum is tough on stubborn stains but gentle on your clothes. This results in reduced wear and tear on your clothes even after several washes. On the drum surface, there are 560 protrusions for better flexibility and 720 micropores that spray water, increasing the cleaning rate and making your laundry routine go faster.
This Haier washing machine also comes with a dual spray that not only cleans your clothes but also eliminates residue left on the machine's gasket and windows. As such, you can prevent the buildup of suds, lint, and dirt, guaranteeing you have a clean washing machine that's ready for a new laundry load all the time. Best of all, this washing machine includes a steam function to kill bacteria, germs, and viruses that may be lurking in the folds of the fabric. As a result, your family won't have to worry about bringing any disease-causing microorganisms into your home.
If you're looking into replacing your old and broken washing machine, you've come to the right place. Get the Haier Front Load Washing Machine Inverter 8kg HW80-BP12929S6 from an appliance store with the best prices online and offline: Savers Appliances. This Haier washing machine will be your faithful laundry companion, and you'll never have to dread laundry days ever again!
Additional information
| | |
| --- | --- |
| Weight | 62 kg |
| Dimensions | 64 × 50 × 90 cm |
| Washer Capacity | |
| Washer Technology | |
| Other Technology | |
Only logged in customers who have purchased this product may leave a review.